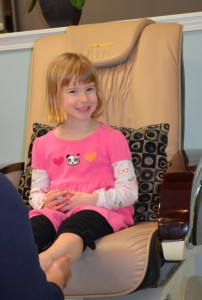 Little girls of this modern age have unique milestone in their lives—first twirl skirt, first haircut at the salon, first pair of sparkly shoes and first experience with nail polish. When my daughter celebrated her 5th birthday, it was a very big deal to her. She talked about it non-stop for weeks approaching her big day. It wasn't that she had any specific wishes or plans, she just couldn't wait to be 5. With such excitement surrounding her big day, I wanted to make it special and memorable but without breaking the bank. Her sweet sixteen would be here soon enough!
At 5, my daughter didn't have enough little girlfriends to really warrant a party. (Nor did mommy have the energy to put one on.) To figure out a great way to celebrate, I started asking my mom friends who also had daughters what would be something fun she and I could do together. A pedicure at a nail salon topped the list of suggestions. It was something Anne had never done before and it was easy enough to take her life-long friend Megan along for the fun. I called up Megan's mom Jaclyn (my lifelong friend) and she loved the idea. We decided to add lunch to the birthday party date and chose a Sunday afternoon for our outing.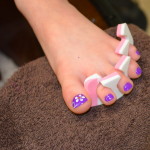 We picked Panera for the lunch date as they have kids' menu and we could get the girls a cute, sweet treat for dessert. Not having a server wait on us worked out well as the girls did get a little wiggly when they were finished eating, long before we mothers. But the girls did enjoy their mac-n-cheese and soup.
After lunch we headed over to a local nail salon called SOAK where we were immediately greeted by a tower of nail polish bottles with every color imaginable. The girls had a lot of fun selecting their favorite shade of purple. Next, they headed over to the pedicure area and were seated in a massaging chair, complete with foot soaker tub. As the girls were a little small for the large chairs, the staff provided pillows to help prop them up. They looked like princesses on thrones! The gentlemen who painted the girls toes did a nice job and even painted flowers on their big toes. This was definitely a highlight. The entire experience was well worth the $15 for each girl and surprisingly, the polish lasted for almost 2 weeks. I think that is some kind of a record for a child's toes!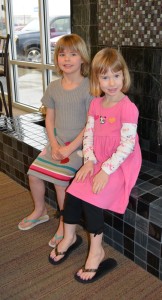 Anne and Megan both talked for days about their pedicure experience and said that next time, Jaclyn and I needed to have our toes painted too. Even though the temperature was in the 30's the next day, Anne insisted on wearing her sandals to preschool to show her teacher her lovely purple toe nails. Good times, good times…
Submitted by Sarah Chandler. Sarah is a Springfield native, wife to Jeff and mom to Levi and Anne. She loves to spend time outdoors biking, hiking, skiing and playing golf. When she needs a break, you'll find her in the purple painted walls of her craft room writing, creating quilts, swaddle blankets and scrapbooks.