If you or any of your kids love animals, think about taking a Behind the Scenes Tour at the St. Louis Zoo. While these tours aren't cheap, they give you an opportunity to talk one-on-one with an animal's keeper and observe up-close. You might even be allowed to touch animals or insects.
I've taken three of these tours so far: two with my son when he was ten and one with a "forty-something" girlfriend (we're both animal lovers). And I plan on taking more. They're fun and educational.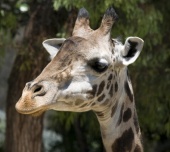 The tours I've taken have lasted 30 minutes to almost an hour. I've fed a giraffe and had her long, black tongue tickle my fingers while she was stripping leaves from the acacia tree branch I held. On another tour, my son, I, and some of our friends sat on the floor with a pair of comical penguins. We watched as they paraded around us just inches away and peered at us quizzically with their heads cocked to one side. When some zoo staff walked by, they squawked and waddled toward them at top speed (that's a sight) in an effort to "defend" the tour guide, whom they've come to adore like a "grandmother," she said.
My son and I took the "Creepy Crawlies" tour where you enjoy an inside look at the Insectarium. Luckily, no one else had signed up so we experienced a private tour from a wonderful bug keeper named Glenn. He took us into a special room where they breed an endangered species of American burying beetle: we saw the white, pudgy grubs, the shy adults, and we learned about the program's goals.
In the main Insectarium, we saw dozens of bugs, from stag beetles to spiny walking sticks to a type of golden orb weaving spider; we even got to hold a few of the residents (none of the venomous or dangerous species, of course).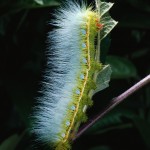 Like all of the tours, we learned about the critters and their care. Glenn explained how the Insectarium has to be very careful not to let any of the bugs or larvae escape outside, because they could decimate crops, among other possible damage. One way the bug keepers prevent that is to freeze their garbage for several days, which kills any bugs or larvae in it. He showed us the frozen garbage and told us about their recycling efforts to reduce their amount of garbage to one small bag per week.
I took my son on this tour during a day off school, but it was still an educational day — at "bug school." When we got home, he excitedly rattled off information and facts we learned for his father and grandparents. (Who knew he listened so well?)
The tour costs range from $25 to $100 per person (entrance to the zoo and street parking are free, but the adjacent parking lot has a fee). There are more than a dozen tours, giving you up-close looks at animals including: snakes, giant tortoises, lemurs, primates, cheetahs, tigers, sea lions, and rhinos. Some tours may allow you to touch or interact with the animals; a few let you make treats for them.
For safety reasons, some tours have age limits. All tours have limits on the number of people in each tour group. And some tours are given at specific times or only during certain months.
Typically you need to schedule the tours three weeks in advance. For more information, check out the Zoo's Behind the Scenes Tour website or call 314/781-0900, x. 4840.
Submitted by Springfield Moms reader and contributor Tara McClellan McAndrew — mom and animal lover extraordinaire.