Thank you to Kari Thevenot for submitting this recipe from www.allrecipes.com.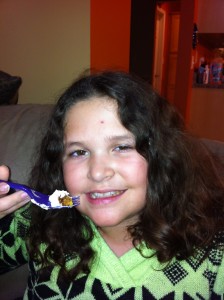 This recipe has been a yearly staple in the Thevenot family for close to ten years. Kari fixes this sinful dessert every Thanksgiving, or else would hear about it from hungry family members! The crunchy crumb topping is what makes this dessert so very yummy.
Ingredients
2 cups pumpkin puree
12-ounce can evaporated milk
4 eggs
1-1/2 cups white sugar
2 tsp. pumpkin pie spice
1 tsp. salt
1 (18.25-ounce) package yellow cake mix
1 cup chopped pecans
1 cup margarine, melted
1 (8-ounce) container frozen whipped topping, thawed
Preheat oven to 350 degrees. Lightly grease one 9×13 inch baking pan. In a large bowl, combine the pumpkin, evaporated milk, eggs, sugar, pumpkin pie spice and salt. Mix well and spread into the prepared pan.
Sprinkle the yellow cake mix evenly over the top of the pumpkin mixture and pat down gently. Sprinkle the chopped pecans over the top of the cake mix, then drizzle the melted butter all over the top.
Bake at 350 degrees for about one hour, but no longer than 1 hour and 20 minutes. Let cool. Serve with whipped topping.
Makes one 9×13 inch cake.