Making your own baby food is so easy and more economical than buying pre-made baby food. This also gives you an opportunity to introduce an exciting variety of fruits and veggies to your baby. (I haven't ever seen asparagus or avocado in a baby food jar.) Making food for your baby also puts you in control of the grade of fruits and veggies your child is eating. You may be thinking, "I don't have time for that." Believe me, I don't have a lot of extra time either, but you only need a small amount of time to make a batch of food. You won't be making food every day. It is made in large batches, enough for a couple of weeks, a month, or whatever you choose. I have described below how to make a batch of sweet potatoes. This process can be used for any fruit or vegetable. The actual cooking process would vary from food to food.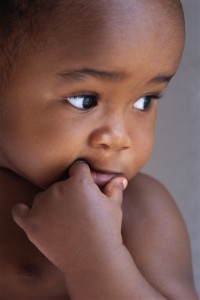 Making a batch of sweet potatoes for your baby
1. Purchase five or six small sweet potatoes. Large sweet potatoes tend to be stringy.
2. Wash with a vegetable brush.
3. Place the whole sweet potatoes in a pot of water making sure they are totally covered.
4. Bring the water to a boil, and let boil for 20-30 minutes.
Submitted by Dawn Raycraft