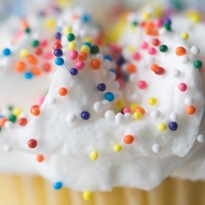 Cupcakes in a Cone
What you need:
1 package dry cake mix (any flavor)
24 cake cup ice cream cones
water, oil and eggs per cake mix directions on box
1) Preheat oven to 350F.
2) Mix cake mix per directions on box. If using a white cake mix, divide mix into four separate mixing bowls and use food coloring to make different ice cream "flavors".
3) Place ice cream cones in muffin pan and fill about 1/2 to 3/4 full.
4) Bake 15 to 20 minutes or until done.
5) Cool on a wire rack. Let cool completely if frosting.
This recipe courtesy of www.Heloise.com.
Easy Ice Cream Cake
What you need:
• 1 cup heavy cream
• 2 tablespoons confectioners' sugar
• 6 ice cream sandwiches (3.5 ounces each)
• 2 1.5-ounce candy bars or 1/2 cup chocolate chips, chopped
1) Line an 8 1/2-by-4 1/2-inch loaf pan with a piece of wax paper or parchment, allowing the paper to hang over both long sides.
2) In a large bowl, beat the cream and sugar until stiff peaks form.
3) In the bottom of the pan, arrange 3 of the sandwiches in a single layer, cutting them to fit as necessary. Spread with half the whipped cream. Repeat with the remaining sandwiches and whipped cream.
4) Sprinkle the top of the cake with the chopped candy bar. Cover with plastic wrap and freeze until firm, at least 1 hour and up to 1 week.
5) Holding both sides of the paper overhang, lift the cake out of the pan and transfer to a platter. Discard the paper, slice the cake, and serve.
This recipe courtesy of www.realsimple.com.
Do you have fun summer recipes to share with Springfield Moms readers?  Send them to springfieldmoms.org@gmail.com and we'll include them on the website.