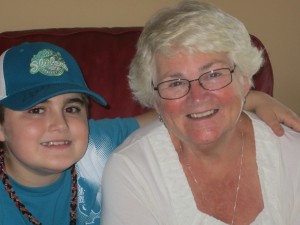 Whether they're not yet in school, or approaching graduation, children of EVERY age and stage are always learning something. Grandparents are uniquely equipped to help. Our life experience and education enable us to enlarge our grandchild's perspective and help them understand that learning is fun.
Pre-school children are naturally curious about the world around them. Stimulate that curiosity and help them love to learn:
Elementary school age kids who are just learning to read and write are usually enthused about pen-and-paper learning. Take advantage of that:
Junior high, high school and college students are techno-savvy, and you can use this to your advantage:
As a grandparent, our enthusiasm, interest and involvement can encourage any child to become a lifelong learner. Enjoy participating as your grandkids catch on to the joys of learning!   Online Resources to Check Out:
Submitted by Springfield Moms writer Holly Schurter. Holly is married to John; they are parents of eight children and grandparents to eleven, including three who live in the Springfield area. Holly is also a freelance writer.