To say an activity at Disney World is "free" isn't completely accurate since the parks,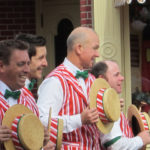 and even parking do have a cost. However, there are MANY free and even unexpected opportunities for fun that can make your family's trip more magical.
Street singing– the Dapper Dans are a perfect example of musical magic that you can encounter at Disney. Usually seen on Main Street USA in the Magic Kingdom. Read more here.
Street entertainment – be on the lookout for Hollywood stars cruising down the street at Disney Hollywood Studios. Another favorite are the JAMMitors at Epcot – a clean-up crew that uses their supplies to jam out some very fun music. It's well-done, but silly enough for little ones to enjoy, too. Check our more information here: https://disneyworld.disney.go.com/entertainment/epcot/jammitors/
Pirates Adventure – this free adventure is a way to explore the Magic Kingdom's Adventureland. It's a series of quests that's perfect if you have children who like going on missions. Read more about Springfield mom Mandy Maple's Pirates Adventure experience with her family at her blog, Creative Cents.
Autographs – Although Disney offers "official" autograph books, lots of people make their own books. Characters sign autographs at no charge, and it's a great way for your kids to interact with their Disney favorites. There are places you can stand in a long line to see certain characters, and other times you'll happen upon a character that might have time for an autograph or at least a hug.
Hotel Parties – If you are staying at a Disney property, when you check in you will receive a listing of activities at your resort. These can include cookie decorating, story time, pool parties, crafts, poolside movies, and more. And all have a touch of Disney magic, of course!
Dance Parties – When you arrive at a park, check out the Times Guide — or check online — for special activities through the day. Dance parties are a favorite, and characters often stop by! P.S. If you don't find a dance party, start dancing and others might just begin dancing, too! It's Disney, after all!
Photo Posing & Magic Shots – Disney's Photopass is a free way to pose for photos. You can pre-purchase prints or digital copies, or wait until you get home and then view the photos before you decide if you want to purchase any of the prints. Some of the Photopass photographers can take magical photos where you pose in a special way. Then, when you get your digital file of photos, there's magic on the photos. Not all locations and not all of the Photopass photographers are able to take the Photo Magic Shots.
Activities everywhere! At some point, even the most chipper person in your
family gets get tired of lines. Sometimes we need something a bit more active than rides. Look around while you walk, and you'll be surprised at what you find at Disney World. For example, there are drums in Epcot and Animal Kingdom, just waiting to be used!
Yehaa Bob – this may be one of the best-kept secrets of Disney World. Bob Jackson performs regularly at the Port Orleans resort and it's a FREE, mad-capped and non-stop performance of funny songs. Disney classifies it as being for adults, but when we've seen Bob, it's been an all-ages affair. Read more here. 
Fireworks – of course, no trip to Disney World would be complete without fireworks. There are great places to view fireworks, but it's up to you if you want to stake out space ahead of time, or just experience the magic from wherever you happen to be when the fireworks begin. If you're not a fan of fireworks or simply don't see the appeal, this is a GREAT time to get on rides with minimal or no wait at all!