Blue ribbon winner at the 2013 Illinois State Fair!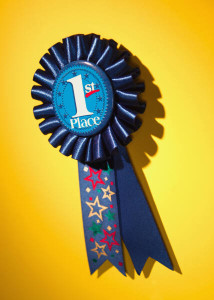 Directions:
1) Chop cauliflower into small popcorn size pieces.
2) Arrange on baking sheet in single layer.
3) Drizzle with Olive Oil.
4) Sprinkle with salt and parmesan cheese.
5) Bake at 425 degrees for 20 minutes or until tops begin to get toasty.
Cauliflower has great Vitamin C. It is an excellent source of dietary fiber, beta carotene and folate. It is low in fat and low in calories. There is only 210 calories in a large head of cauliflower (6-7 inch in diameter). Cauliflower contains substances called indoles which is why cauliflower has a sulphur smell if over cooked. Indoles may help some types of cancer. One cup of cauliflower has 86% of the daily recommended value of Vitamin C, which helps to fight off bugs. There is 12 grams of fiber for every 100 calories. Eat raw cauliflower to retain vitamins but it can also be roasted, boiled, fried, steamed, or micro-waved. Boiling does reduce the level of nutrients with losses of 40-50% after 10 minutes. You should store cauliflower unwashed, in a plastic bag with head turned downward.
Submitted by Caroline Dahlquist