This fabulous recipe was submitted by Julie Kaiser who has been making this pie for years from a recipe given to her from former Springfield resident Janet Mathis. (Janet's grandmother made this pie for her family.) Enjoy!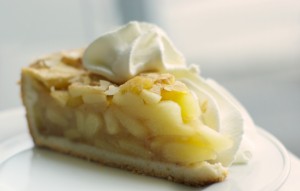 EASY DUTCH APPLE PIE
2 cups flour
1 cup brown sugar
1/2 cup oatmeal
1/2 teaspoon salt
3/4 cup melted butter
Mix the above ingredients to crumble stage. Keep 1 cup reserved for topping. Press the rest into the bottom of an 8″ or 9″ pie pan. Cover crust with 2 cups diced apples. (Granny Smith work well.)
1 cup water
1 cup sugar
3 Tablespoons cornstarch
1 teaspoon vanilla
2 teaspoons cinnamon (for flavor if you like)
Boil water, sugar and cornstarch until thick. Add vanilla (and cinnamon to taste). Pour over apples and cover with the reserved crumble topping.
Bake at 350′ for 50 minutes. Enjoy!
Julie adds: "This pie is great for breakfast too!"