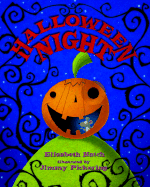 With shorter days and less outdoor playtime, reading time comes inside, close and cozy. There are many fun books that surround this fall season of pumpkins, harvest and Halloween. Libraries and bookstores will spotlight many of these fall titles.  Email me with your new favorites, and we'll add them to the list!
Halloween Night by Elizabeth Hatch, illustrated by Jimmy Pickering. Random House, 2005.  This laugh out loud rhyming book incorporates a variety of characters who are all hiding inside a smiling jack-o-lantern.  Love the illustrations in this one.
Little Blue Truck's Halloween by Alice Schertle, illustrated by Jill McElmurry. HMH Books, 2016. Little Blue Truck is picking up his friends for a Halloween party. Lift the flaps in this board book to see who is dressed up in each costume.
Ghoulish Goodies by Sharon Bowers, illustrated by Michael Slack. Storey Publishing, 2009.  This is a party book that will cover your needs for everything from classroom Halloween parties to family wiener roasts and fall festivities.  Recipes for creature cupcakes, bat wings, funny bones, witch's knuckles and more!  Check this one out.
Halloween Hustle by Charlotte Gunnufson, illustrated by Kevan J. Atteberry. Two Lions, 2013. A skeleton heads to a Halloween party but keeps falling apart. Will he even make it to the party?
Double Trouble on Halloween by Don Hoffman, illustrated by Katy Batz. Peek a Boo Publishing Group, 2016. Twin brothers prepare for trick-or-treating. What happens when they forget their manners? This fun book reminds children that being polite is nothing to be afraid of.
What's That Spooky Sound? A Halloween Trick or Treat Thriller. CreateSpace Independent Publishing Platform, 2016. Three children go on a Halloween adventure. Perfect for parents to read to their pre-reading children.
On a Scary Scary Night (Can You See What I see?) by Walter Wick. Cartwheel Books 2008. If your kid is an I SPY fan, this is the Halloween book to check out. Kids of all ages will delight in closely reviewing the pictures to find the hidden mysteries.  Even the youngest enjoy the pictures.
Halloween Colors by Barbara Barbieri McGrath. Charlesbridge 2016. A bright book to introduce babies to colors.
The Very Best Pumpkin by Mark Kimball Moulton, illustrated by Karen Hillard Good. Simon and Schuster, 2010. This book about farm life and friendship describes Peter who lives with his grandparents on Pumpkin Hollow farm where they tend to a garden.  Megan is the girl next door who becomes friends with Peter as they match pumpkins. Elementary age.
The Runaway Pumpkin by Kevin Lewis, illustrated by S.D. Schindler. Orchard Books 2008. Another pick for all ages. Your babies will love the rowdy rhymes, while preschoolers enjoy the illustrations and the rollickin' pumpkin on the loose. Grade-schoolers especially find humor in this addictive and fun Halloween tale.
Moonlight, the Halloween Cat by Cynthia Rylant. HarperCollins, 2003. For little ones, toddlers and preK. This adorable little black cat is an explorer at heart, and she loves Halloween.  There's lots to see on this warm and friendly night.
A Very Brave Witch by Alison McGhee, illustrated by Harry Bliss. Simon and Schuster (Paula Wiseman 2009).  The very brave witch in this story has never seen humans before so imagine her surprise when she falls off her broom stick and bumps into some trick-or-treaters.  The illustrations capture attention. Not a lot of words to this one.
The Book of Ghosts by Michael and Devon Hague. HarperCollins, 2009. Older readers will get goose bumps as they enjoy classic ghost stories including "The Tell-Tale Heart,"  "The Legend of Sleepy Hollow," "The Mummy's Curse" and more. The watercolor illustrations add to the spookiness of this collection.
Reader Recommendations
"My very, very favorite Halloween book is The Halloween Play by Felicia Bond. It's such a sweet story. I buy a few copies every year to give away."  Lisa W.
"We just finished  Good Night Goon: A Petrifying Parody by Michael Rex.  It was great and super cheap in the Scholastic Book Club Order!"  from Rachelle.
Submitted by SpringfieldMoms staffer Julie Kaiser.