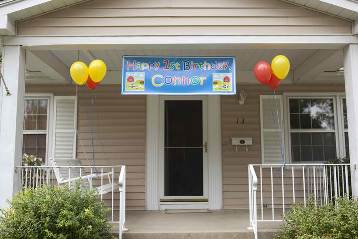 When it came time to celebrate our son Connor's first birthday, we were only thinking one thing: big birthday bash!
If you're anything like me, you want to celebrate your first child's first birthday in a big way, with all of your family and friends around for the occasion. Throwing a 1st birthday party at home is an easy way to host the event and carry out your party plan to the fullest.
The first thing you should do is choose a theme or color scheme. Connor was completely obsessed with animals. So we decided to go with a barnyard theme for his party. There are TONS of different themes you could choose. To brainstorm, think of your child's interests, from a favorite book to a favorite stuffed animal or cartoon character.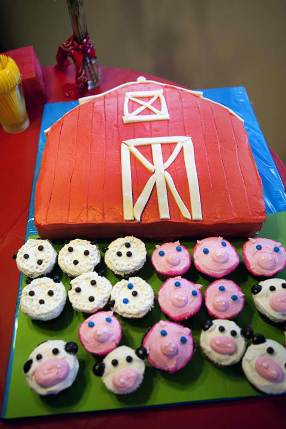 Once your theme or colors are chosen, it's time to carry out your vision:
1. Get organized and make a list. Figure out all of the different spaces you want to incorporate your theme, both inside and outside, and what you will need in order to do just that. What decorations will you need? What food and drinks will you serve? What activities might you want to have?
2. Start shopping. Begin early and just keep your eyes out when you are running errands for decorations or things that you can use for your party. Don't forget to check the dollar spot at Target or local dollar stores.
3. Decide where everything will be set up at your house. Where will food be served, where will the children's bounce house be located, and where will the cake be cut? We were fortunate to have beautiful weather on the day of Connor's party, so we set up the food, drinks eating tables and extra seating outdoors. We decorated our kitchen table to host the birthday cake, and we also had a running slideshow of photos from Connor's first year on our TV in the living room for guests to enjoy.
4. Once you have everything planned out – delegate tasks! Several of our family members brought food dishes, my in-laws brought tables and chairs to set up, my talented sister-in-law designed the invitations and our uncle created a wonderful barn cake with animal cupcakes. Another aunt and uncle, who have a sign business, made a beautiful birthday sign for us to hang on the front porch. It will all go more smoothly if you have help!
5. Do anything you can before the party day. My mom graciously created the table decorations, and completed them all the night before, so all we had to do was set them on the tables the day of. (Do wait until party day to blow up balloons though!)
When working with a theme or colors, try to use that focus in every aspect of the party, from the cake, the invitations, the food and drinks and the table decorations. Set everything up early on the day of the party, and then enjoy the event…and don't forget to take pictures!
Submitted by SpringfieldMoms contributor Courtney Westlake, who is mom to Connor and Brenna and wife to Evan.