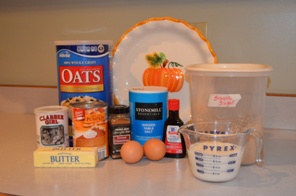 Thanks to Springfield Moms contributor Sarah Chandler for sharing this recipe.  She writes:
The spicy and creamy smells that accompany the season of Autumn are some of my favorites of the year. Between drinking coffee laced with pumpkin spiced creamer and spreading pumpkin butter on a piece of toast, I feel relaxed with the scent of cinnamon and spice in the air.
When I stumbled across this recipe for Baked Pumpkin Oatmeal at Angie's Gluten Free Club, I knew it would cover all of my bases for getting a pumpkin and spice fix in the morning. Thankfully, my children love it and my husband who is on a wheat free diet can enjoy it as well!
Baked Pumpkin Oatmeal
3 cups quick cooking oats
½ cup brown sugar
2 tsp. baking powder
2 eggs
1 cup milk
¾ tsp. salt
2 Tbsp. butter, melted
½ tsp. cinnamon
2 teaspoons vanilla
¾ cup canned pumpkin**
¼ cup brown sugar (for the top)
In a large bowl mix together all ingredients except the ¼ cup brown sugar for the top. Spread into a greased 9×13 pan. Sprinkle remaining ¼ cup brown sugar on top. Bake at 350 for 20 minutes. Serve with milk and enjoy!
**Author's Note: You will not use the full can of pumpkin, however the remaining amount is great to put in pancake or waffle batter. After I add the pumpkin to my batter, I also add ¼ teaspoon of ground cinnamon to soften the taste of the pumpkin.
Springfield Moms contributor Sarah Chandler is a Springfield native, wife to Jeff, and mom to Levi and Anne. She loves to be outdoors during all seasons and enjoys relaxing indoors by creating quilts and scrapbooking.