Back to School Shopping Tips for Supplies and Clothes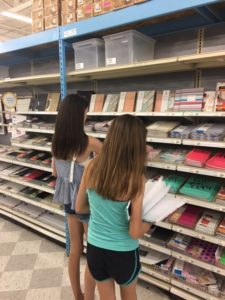 Don't feel weighed down by the advent of a new school year. Embrace school shopping from the eyes of a child, but with grown-up know-how.
Get organized. Take inventory. Make a List. Stick to it!
School Supply Shopping $ Saver! Review the school supply lists online FIRST. We've organized B2S shopping list links to more than 20 area school districts! take inventory of what you ALREADY have and then check your favorite stores weekly ads online to see what store has the best deals on the items YOU need for fall
Set a budget & stick to it! Find out if your child's supplies will be pooled with everyone else's in the class or kept entirely as his own. This is important because it affects if you purchase Star Wars or Hello Kitty pencils, or just plain No. 2 pencils. Some classrooms pool together the pencils, pens and dry erase markers, so fancy ones are out. In my family, we concentrate on more personable writing journals, scissors and folders. Finally, set boundaries and budgets with the kids before you go shopping. Depending on the list, one can easily get by with spending less than $25 per child.
Clothes shopping: Now that the supplies are out of the way, move on to clothes. Take time to do some inventory before you hit the stores. Sit down with your child and sort through their clothes drawers and closet. What stays? What goes? What fits? What doesn't?
Remember we still have those summer temperatures when they return to school. Check to see how many shorts and shirts still fit your child. Then hit the sale racks to add a few new shorts and t-shirts to start off the first week of school. It doesn't necessarily have to be five new complete outfits. Perhaps, try something new for every day of the first week. Concentrate on finding a new shirt or shorts for one or two days, a new pair of earrings for another day and a new pair of shoes for the last day of the week.
Check out area Resale shops for great second hand deals! Once Upon a Child on Wabash, Remarkable Resale in Rochester, Plato's Closet or Clothes Mentor all have great deals and sales. Then in late September or October, plan to go for a relaxing shopping trip (all on your own!) to buy jeans, long sleeve shirts and hoodies to start the kids off for the fall.
Curious about what other moms do? Check out our Back to School tips from readers here.
Submitted by Springfield Moms Advisory Board member and frequent contributor Allison Klint.