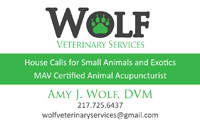 Wolf Veterinary Services offers a unique and individualized approach to veterinary medicine with progressive options for preventative, therapeutic and rehabilitative care for small animals and exotics. The mobile practice includes general veterinary medicine, such as yearly wellness exams, vaccinations, heartworm testing and sick visits. WVS also offers acupuncture and acupressure for pain management, acute injury, chronic illness, pre-surgery, anxiety disorders and post-surgical/post-injury rehabilitation.  Learn more about acupuncture in this article.

Routine appointments are scheduled Monday through Sunday between 9:00 a.m. and 4:00 p.m. and other hours by request.  Dr. Wolf will come to your home to assess your pet and discuss all treatment options.
Contact WVS by phone call or text message, as well as at wolfveterinaryservices@gmail.com for scheduling and non-emergent questions. In the event of an emergency, please call or text Dr. Wolf anytime at 217.725.6437.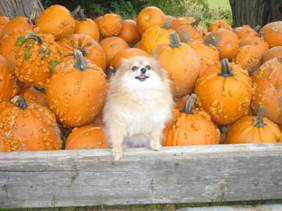 WVS looks forward to providing convenient health services tailored to fit your pet's needs.
| | | |
| --- | --- | --- |
| | Redeem this coupon for $15 off immunizations and a FREE nail trim on your first visit.   Call or Text 217-725-6437.  Expires: 12/31/2013 | |