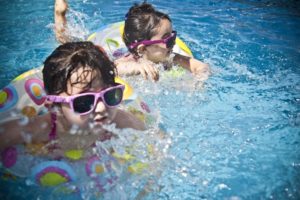 Introducing children to the water is an important safety activity. Learning to swim in a safe environment can be a fun experience and also a necessary one to protect your child from drowning accidents. Some kids jump in without a fear in the world, while other children experience great anxiety about the water. Here are some book titles that will introduce your kids to the water in a relaxed reading environment.
Infant to Preschool
Come on Baby Duck by Nick Ward. Good Books Publishing, 2004. A baby duck overcomes his fear of water after his favorite teddy falls in the neighborhood pond.
Maisy Learns to Swim: A Maisy First Experience Book by Lucy Cousins. Candlewick, 2015. Maisy and her friends take a beginners' swimming lesson at the pool, with different ways of approaching the situation.
Ages 3 – 8
D.W. All Wet by Marc Brown. Little Brown, 1988. D.W. learns about beach life and overcomes her reluctance to swim.
Josh the Baby Otter by Blake Collingsworth. 2009. Newly-born otter Josh learns to float and swim with the help of some new friends. A fun book that teaches children about water safety.
Katie Catz Makes a Splash by Anne Rockwell. HarperCollins, 2003. Katie's fear of water leads her to take swim lessons in order to be ready for an upcoming pool party.
Olvina Swims by Grace Lin. Henry Holt & Co. 2007. This Olvina adventure takes place in Hawaii where Olvina is overcome by her fear of water. Her friend Hailey helps her learn how to swim.
Stewie the Duck Learns to Swim by Kim and Stew Leonard, Jr. with Dr. Lawrence E. Shapiro. Kimberly Press LLC, 2002. This book and interactive CD teaches youngsters water safety rules and how to safely learn to swim.
Ages 9 – 12
Alice the Brave by Phyllis Reynolds Naylor. Atheneum, 1995. Alice is an eighth grader who conquers her fear of water and learns how to swim.
Other Resources
United States Lifesaving Association