We'll update this weekly throughout the holiday season. Keep checking back!
Are we missing one of your favorites? Please email springfieldmoms.org@gmail.com
If you're looking for Tree Farms, Cookies Walks, Holiday Events/Classes, Holiday Light Displays and more visit the full HoliDaze Guide here.
Dec 19 & 21 *SPMOMS FEATURE:
SANTA AT THE YMCA
Get your photo taken with Santa. 5-6:30pm Tuesday December 19 at the Kerasotes YMCA, 4550 W. Iles in Springfield, and 5-6:30pm pm Thursday December 21 at the Downtown YMCA, 701 S. Fourth Street, Springfield.
December 19-23 Santa visits Henson Robinson Zoo during Winterland Holiday Zoo Lights, 5-9 pm. $7/adult and $5/kids ages 3-12. Holiday music, lights, and more fun at the zoo. springfieldparks.org
Places to See Santa all Season:
Santa at White Oaks mall. Starting November 2.
Santa at the Old State Capitol. Wednesdays 5 pm to 8 pm; Saturdays 2 pm – 5 pm. Free. 785-9396. Come downtown and visit with Santa at the Old State Capitol during the Holiday Walks. The kiddos will also enjoy crafts, a candy cane from Mrs. Claus and face painting.
Santa on the Jacksonville Square. www.jacksonville.orgDecember 14-24. 4:30-7:30 pm; except 2:00-4:30 on 12/17 and 12/23; and 2-4 pm on 12/24.
Past 2017 Santa Visits
November 4th: Santa Claus Is Flying To Town! Into FlySPI… The Official Airport of Santa Claus 🙂 Come Welcome Santa This Saturday 11/4 @ 10am! FREE COOKIES & MILK will be provided starting at 9:30am, along with seasonal activities to entertain the children while they wait for Santa's arrival. FREE PHOTO w/ SANTA when he arrives (10am-11am) at Abraham Lincoln Capitol Airport, 1200 Capital Airport Drive Springfield *Please Enter Thru Doors B & C. Facebook event page.

November 4-5 Paws with Claus – professional holiday photos – pets – children – adults, with or without Santa at Anna C. Pauly Photography studios at 913 S 6th Street, 2nd floor. Session times 9:30 a.m. to 5 p.m. on the 4th and 11 a.m. to 4 p.m. on the 5th. 15-minute sessions. $20 sitting fee. See reservation information on the Facebook Page.
November 18th: Usher in the holidays with Santa, Mrs. Claus and Town and Country Bank! Get your family pictures taken with Santa and his sleigh and receive a complimentary digital photo. Children can participate in a variety of holiday activities and refreshments will be served. Town and Country Bank is an official Toys for Tots drop site where you can donate a new, unwrapped toy for children in need. This free holiday event is open to the public.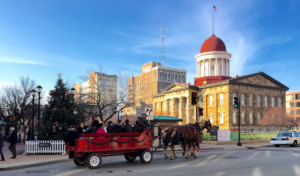 Saturday, Nov. 25 Old Capitol Holiday Walk Kick Off!
Details at downtownspringfield.org/event/holidaywalks2017
10 am to 6 pm – Small Business Saturday Shopping, Dining & Drinks
1 pm to 4 pm – Free Horse-Drawn Carriage Rides by Red Gate Farm
1 pm Nutcracker Mice on the Plaza
2 pm to 3 pm – (Free) Meet Santa & Kids Crafts/Games at the Old State Capitol
3:45 – 4:30 pm – (Free) Santa Arrives & Tree Lighting Ceremony
4 pm Nutcracker Mice on the Plaza
7 pm – Screening of movie "Elf" at Hoogland Center for the Arts
December 1: Cookies and Cocoa with Santa at the Children's Museum of Illinois. 6pm – 8pm for more info please visit their site here
December 2: Santa Visit in the lobby of Bank & Trust Company, 10 Plummer Rd., Chatham. 9 am to noon.
December 2: Santa Stop at Green View Nursery. Santa will be at Green View's Springfield Garden Center from 10 am-Noon. Stop by to say "Hi!" and take a picture!
December 2: Santa Visit at the Williamsville Community Center. Santa will arrive at 10am and stay until 1pm
December 2: Santa and Bake Sale at Elkhart Village Hall. Santa will arrive at 9 am. Bake sale 8 am – 11 am.
December 3: Breakfast with Santa at St John's Lutheran Church. Come have a delicious hot breakfast with Santa from 9-10 am. Then enjoy crafts, Christmas music and a photo with Santa! Tickets $10; 3 and under $5. Call the church office to register 217-793-3933. All proceeds benefit the Committee for Children's Someone Special Program, to pay for children's extra curricular activities their families would otherwise not be able to afford.
December 3: Santa Coming to Chatham Railroad Museum 1-3 pm. At 100 N. State Street, Chatham. Parents, bring your cameras to get your child's photo with Santa. Free
December 5th: Shop with Santa at Simply Fair. Santa and Mrs. Claus will be at the Simply Fair store located at 2357 W Monroe in Springfield from 6 pm-8 pm. Facebook events page.
December 9th: Santa at Scheels. Bring your camera for a free picture with Santa. Free Balloon art by Hot Air creations and a chance to win a $100 gift card. 10am-3pm
December 9th: Santa visits Rochester Library as part of their holiday party. Party is 1 pm – 3 pm; Santa arrives at 2 pm. Crafts and cookies. rochesterlibrary.org
December 9th: Skate with Santa 12:40 PM – 1:55 PM in Bloomington at the Pepsi Ice Center. Skate with Santa and Mrs. Clause at the Pepsi Ice Center this Christmas. Free cookie and 8oz hot chocolate with paid admission. Santa will be available for pictures. Have fun with all of your family and friends skating to Christmas classic.
Dec. 9 Santa's Shop N Play Extravaganza at the Route 66 Hotel & Conference Center 11am-3pm. Shop, visit with Santa, and make kids crafts! Vendors for your holiday shopping, giveaways and children's activities. Photos with Santa and holiday crafts. Restaurant and bar open, and you can buy mimosas while you shop. Free – see event post.
December 9th: Athens State Bank New Salem Branch in Petersberg. Bring at least 3 can goods for the food pantry and take a free picture with Santa. 9-11am
December 9th: 12-4 pm come on in to Magro's 3150 Stanton Ave open to the public,
December 11th-12th: Taylorville Manner Park Soup with Santa, face painter and a balloon artist. Pictures with Santa with a cost that will go to the shelter. 5:30-7:30 on the 11th and 6-7:30 on the 12th
December 16th: Miller Park Zoo BREAKFAST WITH SANTA – 8:30 AND 10 AM Enjoy breakfast with Santa and meet the reindeer. $8 for members, and $12 for non-members. Two breakfasts, 8:30 am and 10:00 am. Sign-up at bpard.org
December 16th: Wild Rose 115 N 6th St, Springfield from 3p-6pm. Mrs. Claus will be joining Santa and are welcoming children or whole family photos! We ask for a suggested $10 donation (although any amount will help!) and all proceeds will benefit HIV orphans in Swaziland, Africa. We encourage you to bring your camera or cell phone and take your own photos, but if you prefer we take a photo with ours, they will be emailed to you and all rights to the photos will be yours with no watermarks. Thank you for helping us raise money for our orphans to be educated – it's the only way they will lift themselves out of poverty! www.ifightpoverty.org
December 16th & 17th: Live Reindeer at Scheels: Come see Santa's Reindeer before they are called back to the North Pole! You don't want to miss this popular event! 11am – 6pm.
December 18 Mrs. Claus at Scheels: Kids Klub Celebrates Christmas! Play games & crafts, decorate a Cookie baked fresh in Mrs. Claus' Kitchen, Write your last minute letter to Santa and enjoy a special visit from Mrs. Claus. 6 pm.