I will never understand why children like veggies one day, and decide the next that they aren't tasty anymore. I recently became so frustrated with my then five year old that I decided if he wasn't going to eat the veggies, I would just have to trick him. Most children like pizza, and after a little bit of thought, I came up with a pizza that is actually a balanced meal.
I steamed half a pound of carrots and broccoli, and pureed them in the blender with a jar of pizza sauce. I made a whole wheat pizza crust and used the carrot/broccoli/pizza sauce as the sauce. I added soy sausage and cheese to make it a complete meal. The kids are eating veggies, and they don't even know it! My son even made the comment that this was the best pizza that he ever ate.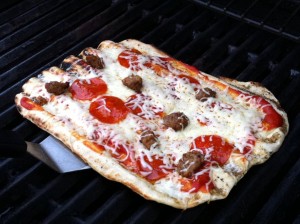 Do you have any tricks that you use to get your kids to eat veggies? We would love to hear about them.
Submitted by Dawn Raycraft