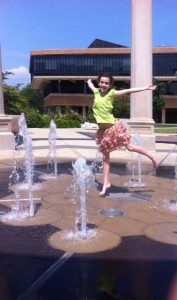 "Vacation all I ever wanted …" my favorite line from the Go-Go's song that my 80's counterparts know well. We have been anticipating our summer vacation for a year! Quality time with my kids, no chores, no work tasks;  just a camera, sunscreen and a stack of books that have been piling up on my nightstand !
Slowing down isn't something I'm very good at, but on vacation I have no problem transforming as soon as the airplane takes off! Ours is coming up soon, and I cannot wait! As soon as I leave our home and the to do lists, I'm in tune with everything around me. I don't care if I read one book or five. I don't care if we do tons of activities or if we just choose to relax! I notice details that our normal fast paced life seems to miss too often.  
Vacation to me is all about having choices. Do a lot or do nothing, but just enjoy the moment! There will be lots of laughter, snuggling and celebrating our new surroundings that's for sure!
Here's to booking those vacations big and small and embracing the memories being made!  Setting the out of office message on my email at work and at home is also quite liberating!