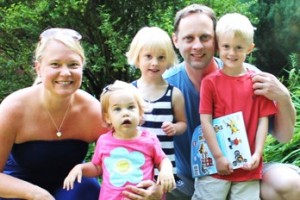 Once we added children to our lives, the travel stakes became higher than ever! My husband and I did take a ten-day, 12-hour car trip with our firstborn when he was six weeks old and having survived that trip (and several other shorter trips), and now traveling with all three of my children, I feel much more confident about our traveling abilities for holidays or spring break. Here are some tips that have worked for our family.
Tips for Infant Car Travel
Divide and conquer – Is your ultimate destination more than four to six hours (one-way) from your home? If it is, and if you have the time, consider dividing car travel time among two days. Use this as an opportunity to visit other friends and/or family that are en route to your final destination. They'll appreciate the thoughtfulness, and you'll appreciate retaining your sanity. Most importantly, your little prince or princess won't lose feeling in their torso or fuel your car with their tummy gas after being stuck in a carseat for an excessive amount of time!
Holly Golightly – Pack wisely, my fellow mamas. Now is not the time to confirm whether your car has as much cubic feet of storage space as stated in the owner's manual. Instead, think about what you need for your baby's basic needs to be met: food, shelter, clothing/bath, and play.
Food: If you breastfeed, your equipment is already packed. If you use formula, consider buying powder packets or ready-to-drink formula. On any trip, you don't need more than three bottles – one that's in use, one that's clean and ready to go, and one that's on deck in case something happens to one of the first two. Keep bottled water in your car (at all times, really) in case you need to make and/or clean a bottle on the side of the road. If your little one is eating baby food, take two spoons, one bowl, and their food – that's all you need! Finally, consider using a booster chair instead of a high chair, and perhaps giving it to your host as a gift … one less thing for you to bring home! Our favorite is the Fisher Price Booster Seat … http://www.fisher-price.com/fp.aspx?st=2002&e=product&pid=27475.
Shelter: If you co-sleep, this doesn't require much planning. If everyone's more comfortable with baby sleeping solo, consider a Pack-n-Play since it can be used for sleeping and playing. And of course, have a couple warm blankets in the car for emergency use.
Clothing/Bath: Infant clothing doesn't take up much space, but don't let that tempt you into packing a traveling fashion show. Think European – one outfit for as many days as your trip is long. This assumes you have access to laundry on-the-go! Bring one package of diapers and one package of wipes – if you need more during your trip, you can buy them at your destination. Baby can bathe in a large sink and likely doesn't require special towels – no need to lug the baby bathtub! If baby can sit up and considers bath a major part of playtime, an inflatable bathtub does the trick.
Play: A couple books, a couple small toys, a play blanket, and something musical should do the job. Travel offers endless opportunities for baby to adapt and to be flexible. Honestly, the best toy is a family member's ever-changing face, which provides hours of entertainment for most infants. And a stroller? Only take it if you are most certain you will use it. Last time I checked, adults lounge after eating large meals – they don't go on a snowy hike with a tike.
Remember Wallyworld – Many of us have endured National Lampoons-like family vacations. But truly, 'getting there' really is half the fun. Take some of your favorite CD's, a couple mommy magazines that have been collecting dust on your nightstand, and most importantly, connect with your spouse and your baby. Truly, the time together is the best present ever.
Submitted by Springfield Moms reader and contributor Jennifer Madiar.