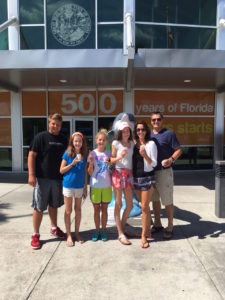 We just survived the 16 hour drive to Orlando with 4 kids and 2 adults.  We compiled some of our favorites and reached out to all of you for many more!  Here are your favorite stopping points on the long car ride to Florida!
Thanks for sharing and congrats to Jen Knudson for winning tickets to Knights Action Park.
Southern tip of Illinois before you enter Kentucky:
Metropolis IL to see the home of SuperMan and get the photo op with the larger than life statue and check out the museum. (Molly L.)
Missouri:
Lamberts (the restaurant has a lot of character and very unique and fun dining experience known for the thrown rolls) in Sikeston, MO (20 minutes south of Cape Gieuradeu)is a little out of the way but a stop we always make. (Jessica B.. and Halley W. )
Tennessee:
Nashville had numerous mentions…so many stops!
Opry Mills Mall with the Aquarium Restaurant and Rainforest Café (Jenny V)
Science Centers especially the one in Nashville TN (Dana W.)
Chattanooga was mentioned several times as a great stopping point.
children's museum for the day (Natasha L.)
Ruby Falls: Cave allow a few hours (Kari T.)
Rock Falls: trails, suspension bridge, Could spend a whole day (Kari T.)
Franklin, TN: The Lotz House for a quick an interesting history lesson. (Erika W)
Atlanta GA well, once you make it through the traffic 😉 several attractions:
The Aquarium is the largest in the western hemisphere! (Jamie N.)
Roadside stands with fresh Georgia peaches (Tracy H.)
Patti's 1880's settlement, Grand Rivers KY recreated a historical log cabin village with a delicious, family-friendly restaurant (Katie M.)
Atlanta Braves (Samantha C.)
Six Flags Atlanta
World of Coca-Cola
Savannah GA Great historical stop that the kiddos won't realize you're sneaking in educational experiences along the way (Jen R.)
Asheville, NC: good historical stop
Other Southern Treasures:
The Rest areas in each state are nice and have interesting displays to look at and areas to get some fresh air. The first Rest Stop in Florida they provide fresh squeezed orange juice. (Jen K.) Florida's is pretty neat (Christina S.)
Stop as little as possible and look for a Chik-fil-A with a play place! (Rachel C.)
Waffle House: a tried and true road trip dining experience across many borders! (Jitonna L.)
Quirky place for a bathroom/snack break at the Rocket Alabama rest stop: (Holly D) quirkytravelguy.com/quirky-attraction-space-shuttle-rocket-alabama-rest-stop/
Tupelo, MS to see the birthplace of Elvis and on the way home Leeds, AL with a nice outlet mall and Bass Pro Shop. (Leila L.)
Die-hards:
Drive straight through! (Sheila S.)
We were too excited to stop! #disneyorbust (Nancy W.)
Stopping in see family and friends along the way….
Orlando visitors:
Theme Park Connection 2160 Premier Row, Orlando FL "it's like a giant Disney garage sale!" (Lisa W.)
Share more here, this will be an ever-growing resource!