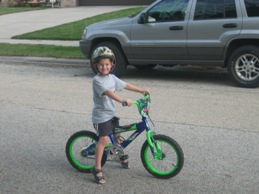 These milestones are the ones that stick in our minds as parents and our kids, too.  After all, don't you remember the terror and thrill of riding a two-wheeler for the very first time?!  We are pleased to welcome Sarah Chandler as a new contributor to Springfield Moms.  Enjoy her post here on Levi's big moment last summer.
During the summer of 2011, my son Levi was 5 ½ years old. He had been riding his "Big Boy" bike with training wheels since he was 3, and really, could go pretty fast and maneuver well for having training wheels. My husband Jeff and I knew there were bigger biking adventures in store for Levi if he could learn to ride with only 2 wheels. So, on a Friday evening after dinner, out came the socket set and off came the training wheels.
When Levi saw that his training wheels were missing from his Hot Wheels bike, he had a very grumpy look on his face. We told him he could ride faster and better without the training wheels, but he was not convinced and continued to sulk. If he was ever going to try out his two-wheeler, we needed a plan and fast.
First, we made sure Levi's bike helmet fit properly.
Second, we set his seat at a height so his feet would comfortably touch the ground while he was sitting on the bike. This way if he thought he might fall, he could catch himself a little easier. Plus, children do not initially understand how to use their backward breaking system on their bikes, so being able to touch the ground is a big thing.  We also used some serious encouragement—"Buddy, you can do this! We know you can!"
Third, bribery. While this does not work for everything, it does help give a new cyclist some incentive for trying. For Levi, we knew he liked getting quarters for doing a good job, so we said he could have 3 quarters for riding back and forth between Jeff and me 10 times. We chose 10 times because it was long enough for Levi to really give the two wheels a chance, but not so long that he would not see the end of the exercise.
Fourth, when Levi started pedaling, I did not hold onto his seat for too long. I would have a grip on the seat just long enough for him to get up some speed, and then would let go. Levi would pedal on his own the 40 yards to Jeff and Jeff would catch him. After about 6 times of doing this little exercise, the scowl on Levi's face started to fade, and his smile returned. Needless to say, he did get his 3 quarters, plus a bonus quarter, and a big bowl of ice cream with chocolate syrup for a job well done.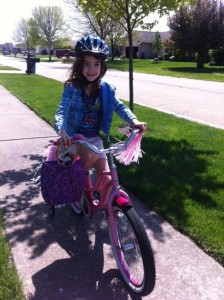 The final trick to successful new two-wheeler riding is practice. Continue having your child ride a few times a week so their new skill sticks. Next thing you know, your child won't miss those training wheels one bit!
Submitted by contributor Sarah Chandler of Springfield. Sarah is a Springfield native, wife to Jeff and mom to Levi and Anne. She loves to spend time outdoors biking, hiking, skiing and playing golf. When she needs a break, you'll find her in the purple painted walls of her craft room writing, creating quilts, swaddle blankets and scrapbooks.