This helpful post provided by Michele Tungett. "What's for dinner?" IS an age-old question!  Enjoy her tips and recipes below.
Whenever I talk to other moms about daily life, inevitably the topic of "what's for dinner?" pops up:
"How do I get my kids to eat healthy foods?"
"We are so busy–I don't have time to cook."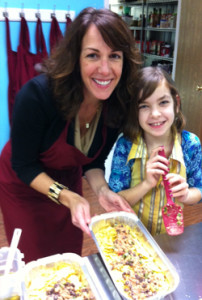 "Grocery prices are insane! How do I stay within my budget?"
And I feel your pain because I have the same concerns. I don't have any hard and fast answers for you, but I will tell you what works for me and for our household.
Here are some tips to help you get started:
Don't buy junk food at the grocery store. If it's not in the house, you can't eat it!
Have a kid who doesn't like veggies? Serve them fresh fruit instead.
Make healthy foods like carrots sticks and grapes easily accessible. Wash and dry them and store in storage bags or plastic containers in the fridge. Place a fruit basket on your kitchen counter.
Use your crockpot/slow cooker.
Menu plan. Make a list of 2 or 3 weeks worth of your favorite meals and rotate them. Store the list and recipes in a folder in your kitchen. The biggest stress of meal planning is trying to decide what to make.
Use your freezer. Prepare freezer-friendly meals ahead of time.
Keep staple items (like jarred spaghetti sauce and pasta) stored in your pantry.
Make breakfast for dinner. Kids love it and it's easy!
Declare one night a week "soup and sandwich night."
Look at the sales flyers in the Sunday papers and plan your menu around what's on sale.
Only buy what you can realistically eat before it spoils.
Go to the grocery store with a list and only buy what is on the list.
Gas stations often have sales on gallon jugs of milk.
Make pizzas at home! It's healthier than frozen pizzas and cheaper than delivery. And what a great way to encourage kids to help in the kitchen! Remember: making pizza dough isn't as hard as it seems. To help speed things along, use your bread machine to knead the dough. Or if you prefer, you can buy fresh pizza dough.
Try this delicious slow cooker recipe for Italian Beef:
Italian Beef (slow cooker)
3 cups water
1 teaspoon ground black pepper
1 teaspoon dried oregano
1 teaspoon dried basil
1 teaspoon onion powder (or minced onions)
1 teaspoon dried parsley
1 teaspoon garlic powder
1 bay leaf
1 (.7 ounce) package dry Italian-style salad dressing mix
1 (5 pound) rump roast
Combine all ingredients in a slow cooker. Cover and cook on Low for 10 to 12 hours, or on High for 4 to 5 hours. When done, remove bay leaf and shred meat with a fork. Return shredded meat to slow cooker and serve on rolls with some of the beef broth on the side.
Submitted by Michele Tungett who lives in Rochester and is married to Mike, an airline captain. She is a stay-at-home mom to Matt and Amelia. When not testing out new recipes on her family, she enjoys reading, scrapbooking, photography and Starbucks lattes.