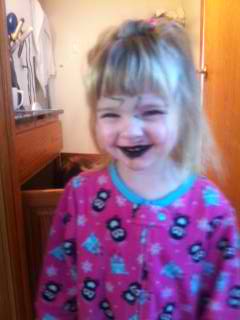 We've all had these moments in parenting, especially with the preschool and younger age children. You step out of the room for just a moment, and when you return, things have dramatically changed (usually not for the better).
It brought me down memory lane when I read Springfield Mom Leann Dolan's story of how her darling daughter acquired her chic black lipstick!
Leann writes: "I was getting the kids ready for church, left the room for just a second! When I came back with their clothes, Simone proudly showed me her "makeup." If you look closely at this photo, you can see her twin sister digging through the bathroom cabinet. I guess she was taking advantage of my focus being on Simone!  Luckily it was dry erase marker so it came off pretty easily. Never a dull moment! I just had to laugh!"
I have a great series of pictures of my daughter at a similar age where she took black eyeliner and colored in her eyebrows and used it as lip liner as well. Classic and memorable fun (even if my reaction was less than amused at the time).  LOL.
Thanks for sharing, Leann!  Have a great weekend!