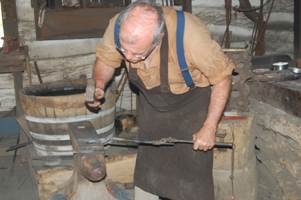 This summer you and your kids can journey back in time more than 180 years ago. If you head thirty minutes north on Illinois State Highway Route 97 toward the town of Petersburg, you will reach Lincoln's New Salem State Park just prior to arriving at the town limits.
Volunteer interpreters dressed in period clothing are asked to leave the trappings of the twenty first century behind before they even enter the gates. You won't hear any cell phones ringing from underneath those long skirts!
Visitors are invited to change their mindset for a time as well and enter a world known by its most famous resident, Abraham Lincoln, as a place of enterprise and opportunity.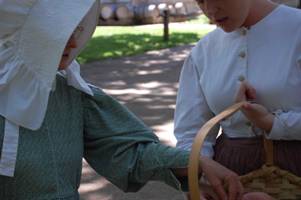 The interpreters begin their work at the historic site with an intensive introductory training course that includes exposure to historic facts, dress, food, trade, commerce, craft and language. As they continue their training with seasoned coaches, they can provide you and your family with a unique opportunity to travel back in time.
Admission is a suggested donation of $4.00 per person or $10.00 per family. You will enjoy access to the entire village, the museum at the visitor's center and a 15 minute video called "The Turning Point."
Bring along your own picnic or purchase food at the café, located next to one of the village's two gift shops.
Particularly memorable events for this year include the following:
New Salem Summer Festival held June 11th and 12th.
Candlelight Tour held October 7th and 8th.
31st Annual Traditional Music Festival on September 10th and 11th. Details about these and many other events can be found at their website here.
This journey north, to a day spent literally walking in Lincoln's footsteps, can be made more noteworthy only by a performance of local actors at New Salem's Theater In the Park, a modern wooded amphitheater that hosts a range of productions.  This year's season has just opened with the current production of Romeo and Juliet, which will run through June 11. It will be followed June 24-26 and June 30-July 3 by the musical The Secret Garden, a favorite for many families based on the classic children's book by the same name. A complete list of this season's shows can be found here.
Submitted by Springfield Moms writer Jenn Clark who is married with two children. She and her family have volunteered at New Salem and love to introduce new visitors to the area.