It's amazing how quickly a family moves out of the stroller stage! That's why we are thrilled to welcome a new crop of Springfield Moms writers, some with little ones, to keep us up to date on the latest for our Baby Corner resource.  Thanks to Melissa Schwoerer for sharing her expertise in the stroller hunt with us.
"One of my favorite memories of the first week of Jack's life is going for our first walk. I was so excited to push that stroller for the first time! Rides around the neighborhood quickly became one of my favorite ways to entertain and soothe him. As he grew though, finding a stroller that met both his needs and mine became a challenge.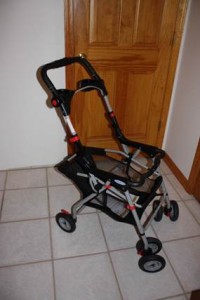 Starting out, I didn't put much thought into my stroller purchase. I knew in the beginning I wanted something easy and compact, so I chose to buy the Graco Snugrider Infant Carseat Stroller frame that I could just snap his infant seat into and be on our way. It had plenty of storage and a cupholder for my ever-present Starbucks, but it was a bit difficult to push and bumpy. As he grew out of his infant seat, it became time to find a new stroller.
Many of my friends swore by the BOB Revolution jogging stroller because it is so easy to push. I checked it out and it got rave reviews online, so I ordered it went it went on sale. I was shocked when it arrived at how massive it was. Yes, it was easy to push, and I loved that part of it. But I had a really hard time getting it in and out of my SUV, and when I hit myself in the face with it once, I knew it was time to find something more manageable. Plus, I could barely get the diaper bag in and out of the tiny storage area, the fabric cupholder (that you have to purchase separately) is a joke, and Jack got really hot in the all-black seat.
Now that I had a bit of experience with what I did and did not want in a stroller, I started researching. I realized that part of why Jack was not happy in the BOB was because he had gotten used to facing me when we used the Graco frame.
Finding a stroller with a reversible handle was now my main priority. I also wanted it to be light weight, not bulky, have accessible storage, be easy to push, and of course, be cute. Easy, right? Oh, and I also didn't want to spend too much, since I already had the BOB collecting dust in my garage.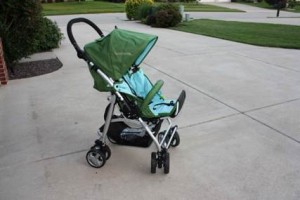 I found two stollers that were reasonably priced with reversible handles: the Graco Flipit, and the Bumbleride Flyer. Bumbleride was more expensive, but had swivel wheels to make it easier to maneuver, and was a lot more attractive.
So I hit up Craigslist and Ebay to find one that was gently used. I had success on Ebay, and after carefully studying the photos and asking a lot of questions, I bought it for about half what it would have cost brand new. It arrived in impeccable condition, was easy to put together, and most importantly, both mom and baby loved it immediately!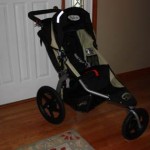 After all of that, my advice to you on selecting a stroller is to be really honest with yourself about what your priorities are. If you are training for a marathon or just love to jog, it may be worth it to give up some of the conveniences of a smaller stroller and go for the BOB or other jogger. But if you are like me and you are more interested in being able to interact with your baby during walks, not getting injured by your stroller, and having room for your shopping bags, look for a reversible handle, less bulk, and a large storage basket.
Some other features to consider include:
Seat recline (does your baby like to nap during walks?)
Weight limit (have a big baby like mine?)
Canopy size for sun protection, and collapsibility. Unless you are in the market to drop $1500 on a Bugaboo (the new Donkey is impressive), you probably won't find one perfect stroller that will meet every need you and your little one will have.
But if you prioritize well and are open to buying gently used, you can get pretty close without spending your life savings. Happy strolling!"
Other stroller research resources:
http://www.consumersearch.com/strollers/important-features
http://www.juststrollers.com/stroller-brands/strollerbrandcomparisonarticle.cfm
http://www.livestrong.com/article/179419-how-to-compare-double-strollers/
Submitted by Springfield Moms contributor Melissa Schwoerer. Melissa is mom to Jack and a Springfield native. She went to undergrad and law school at the University of Illinois and currently works for St. John's Hospital Human Resources Department. In her former life she enjoyed traveling with her husband Brent, and now is happy spending her free time "strolling" with Jack.