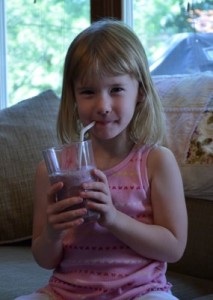 Love this sweet (and healthy!) treat from Springfield Moms contributor Sarah Chandler.  Enjoy!
"If your family is anything like mine during the summer, having a cool treat to slurp on a hot day tastes the best. But just because the sweet delight tastes great and is healthy, doesn't mean it has to be hard to make.
I created this recipe out of need to make a preservative free, wheat free smoothie for my husband. It tastes great and my whole family enjoys it. The only piece of equipment you need is a blender that can pulverize frozen berries.
Summer Smoothie
1 cup Dannon Natural Vanilla Yogurt
¾ cup milk
2 Tablespoons chocolate syrup
14 frozen strawberries, or any frozen berry mixture *
1 banana, preferably frozen **
Pour milk and yogurt into the blender first, followed by the chocolate syrup, berries and banana. Blend until smoothness is achieved. If you do not want the smoothie to be as thick, add more milk.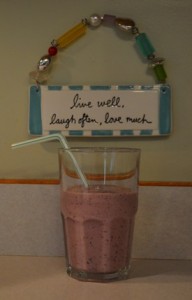 Serves approximately 4, 8 ounce glasses
* Shopper Saver Note: As frozen berries can be a little pricey, look for them on sale. Or if the grocery store has them on a great sale, like when Meijer had 10 cartons of berries for $10, buy all 10, clean and cut the stems off, and then freeze for later use.
** When my bananas start to brown and I know they will not get eaten any time soon, I pop them in the freezer. To thaw and peel them after freezing, I put them in the microwave for about 20 seconds to take the chill off."