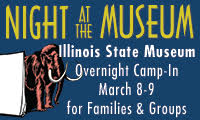 Illinois State Museum
502 S. Spring Street, 782-6044
www.museum.state.il.us/ismsites/main/
2nd Saturday of Each Month
11:00 am to 3:00 pm
Free and open to the public
Bring the whole family to Super Saturdays at the State Museum! Super Saturdays offer free, thematic activities recommended for children ages 4-8. Activities take 30 to 45 minutes to complete and feature crafts and educational games. Parents and families are encouraged to participate. Registration is not required for this activity.
For more information, call the Education Section at (217) 782-6044. Super Saturdays are sponsored by Bank of Springfield.
May 11 Blue Stems & Blue Gills: State Symbols Super Saturday Did you know that popcorn is the Illinois State snack, or that the State dance is the square dance? Learn more about what makes Illinois truly unique at the May 14th Super Saturday, "Blue Stems & Blue Gills: State Symbols." Discover the Illinois State fruit, song, and more through a variety of crafts, games, and activities.

June 8 Travelin' the Land of Lincoln Super Saturday
July 13 At Home in the 1860s Super Saturday
August 10 Marching Melodies: Songs of the Civil War Super Saturday 
September 14 Are We There Yet? Migrating Monarchs Super Saturday
October 12 Rockin' Minerals Super Saturday
November 9  Ancient American Art Super Saturday
December 14  Winter Craft Day Super Saturday
Pin It