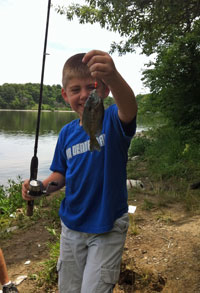 Springfield Moms reader Nicole emailed us this great shot of her son catching one of four bluegill fish where he also learned how to throw them back in without getting a nice pinch from the fish!   Now that's what summer is about!  Memories, milestones and quality time with friends and family.   
It's that time of year when we make our bucket list of things "to ENJOY" this summer! It's a departure from our weekly "to do" list!  Our Director of Editorial content Julie Kaiser got me onto this idea, and I've enjoyed this tradition for several years now.  My girls and I make our joint list of things to do throughout the summer.  Fitting them all in with full-time work, driving all around to summer camps every week, squeezing in a vacation and oh yes, we are moving to a new house this summer!  It's going to be hard to find that evening and weekend down-time, but we need to make it happen!
Some of the items on our bucket list so far:  Grilling out and chalk drawings in the driveway, catching fireflies, Springfield Sliders ball games, sleep overs, Skateland South, Knights Action Park Water park day and mini-golf, Summer Reading Programs, Old State Capitol Farmer's Market (Wed or Sat mornings downtown,  Illinois Products Market every Thursday fairgrounds, Swimming and Tennis lessons, The Muni, catching up on photo albums and scrapbooks (cross your fingers!), going to the top of the Arch in St. Louis, Taste of Downtown Springfield,and Blues and BBQ.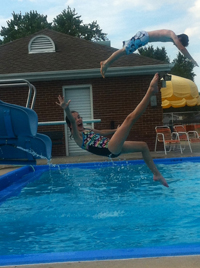 I hope we make it through everything, but most of all I hope we have many moments like the one in this photo here!  Good old-fashioned fun being silly and making each other laugh!