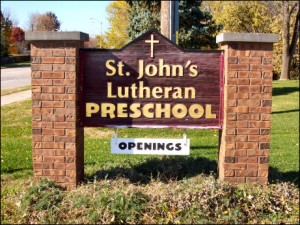 2477 W. Washington Springfield, IL 62702
217-793-3934
preschool@preschool-stjohns.org
Directors: Terri Harms & Melissa Roselle
St. John's Lutheran Preschool is again holding our Summer Mini Camps for ages 3-6. Each camp runs for one week. Our DCFS qualified staff will guide students on a learning journey each week through activities in math, science, language, music, art, food and play. Camp hours are from 8:45 – 11:45 a.m. Monday-Friday. You can enroll your child(ren) in one or both camps.
Tuition for each camp is $90.00. ($50.00 is due at time of registration and the remainder is due one week before the start of camp.) Spaces are limited so sign up early! Registrations are taken on a first come basis.
Choose one session or both!
June 12-16

  "If you give a Mouse a Cookie" (each day will be based on a different book in the series).

July 10-14

    "Children Around the World"

For more information or to register:
Please call the preschool at 217-793-3934 or visit www.preschool-stjohns.org