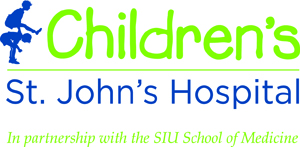 800 E. Carpenter
Springfield IL 62769 
217-544-KIDS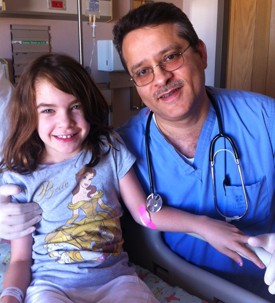 Dear Parent, The mission of St. John's Children's Hospital is simple – to meet the healthcare needs of children and their families in central and southern Illinois by providing high quality, coordinated care for children with acute and chronic conditions through inpatient, ambulatory and community-based programs. We embrace the model of family-centered care and believe that by making families more active in their child's healthcare decisions, we are improving the way health care is delivered.
More than 60 pediatric specialists and surgeons are part of our medical team. They provide care in the areas of hematology-oncology, cardiology, critical care, behavioral pediatrics, gastroenterology, genetics, infectious diseases, neonatology, nephrology, neurology, pulmonology, developmental rehabilitation and various pediatric surgical areas. The Southern Illinois University (SIU) School of Medicine and community physicians partner with St. John's to provide this care. St. John's Children's Hospital is a member of the National Association of Children's Hospitals and Related Institutions.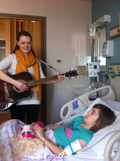 We have the area's only Pediatric Intensive Care Unit and the region's only Level III Neonatal Intensive Care Unit. Because we are all about kids, we have dedicated services to meet your child's special needs. These include a sedation service, dedicated pediatric ambulance and transport team, child life specialists, and staff specially trained to take care of your most precious resource – your child.
To find out more about St. John's Children's Hospital, please visit our website: sjchildrens.com. We look forward to working you to promote wellness and safety in our community.
Wishing you good health,
Mark Puczynski, MD, Chairman and Medical Director, Department of Pediatrics, SIU School of Medicine
Peggy Curtin, Executive Director, St. John's Children's Hospital