Swim Parties are available at both Springfield YMCA locations!
Gus and Flora Kerasotes YMCA
4550 West Iles Avenue
Springfield Illinois 62711
217-679-1625
Enjoy an hour of open swim in the recreation pool. We have plenty of fun pool toys too! For everyone's safety, all party-goers, youth and adults, must stick together. Once everyone has swam to their hearts content for an hour, they can transition into a private multi-purpose room for gifts, food, and fun for another hour! Lightning Policy: The Springfield YMCA closes its indoor pools when lightning is within a 6 mile radius of the branch. We monitor weather information during inclement weather. Details on the Swim Party Options at the Kerasotes location.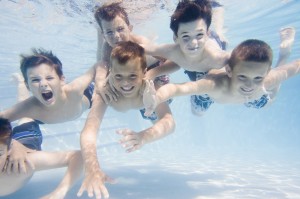 Downtown YMCA
701 South 4th Street Springfield IL
217-544-9846, ext 36
Contact: Jill Steiner
Swim Birthday Party
Available on Saturdays only.
A fun-filled party for two hours for groups of all ages accommodating up to 15 people. Swimming 2:00 – 3:00 pm (Held during open swim). Party Room 2:00 – 4:00 pm. Bring your own party supplies and enjoy year-round fun for a swim party! A Lifeguard will be on duty during activity sessions. A Building Supervisor will be available during the room session. Tables (6-8 feet) and chairs supplied. Details on the Swim Party Options at the Downtown location.