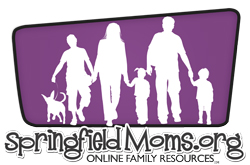 SPRINGFIELD MOMS WEBSITE "FOR GROWN-UPS AND THEIR KIDS" CELEBRATES 5th YEAR ANNIVERSARY PROVIDING ONLINE RESOURCES TO AREA FAMILIES
Springfield, IL. – The Springfield Moms website (www.springfieldmoms.org) celebrates its 5th anniversary this month as the area's premiere online resource for busy families on the go.
"This has been such a fun journey," says Kim Little, Springfield Moms founder and president. "Springfield Moms started as a way for this hometown girl and new mom to share parenting information with my friends and family, just a single email to 30 moms. Today the website averages more than 12,000 visitors (6,500 unique) viewing more than 155,000 pages every month. We feel privileged to serve as a free online information resource 24/7 for thousands of area families and people moving into our community."
Initially the parenting resources focused on new moms with infants through preschoolers. Now the website provides resources for families with kids of all ages, from tot to teen.
"Our intention is to provide resources and events from birth through college," Little says. "Families are growing up with our website, and we want to help them at every stage in that process."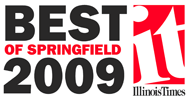 For the second consecutive year, Springfield Moms won the popular vote for Best Local Blog/Website for The Illinois Times Best of 2009 awards. The website has also finished "runner-up" for Best Local Website two years running for the State Journal-Register's Reader's Choice Awards.
Springfield Moms continues to reach out to readers via popular social networks like Facebook and Twitter, which have been given prominent space on the home page. Interested readers can catch the latest posts, event reminders and new coupons from Springfield Moms through their favorite social network sites. They can even answer a weekly poll question for the "What Do You Think?" box and follow the responses.
"Our goal is to reach our readers where they spend the most time online so we can showcase our resources and sponsors," Little says. "Many people check their Facebook pages throughout the day or catch the latest Kim's Blog 'Tweets' through Twitter. Plus, through us, business sponsors can capitalize on the latest online methods to connect with their potential customers."
Founded in November 2004, SpringfieldMoms.org offers parents and caregivers current information including a What's Happening Event Calendar, an A-Z Index of family resources, Dynamic Deals that includes a Kids Eat Free Guide, money saving coupons through the Mom's Choice Directory, holiday guides and much more.
"I just wanted to tell you how much I appreciate www.springfieldmoms.org," emailed reader Gail Noll. "My older daughter just turned 9. Despite mulling it over all summer, we could not decide what to do for her birthday party. With time running tight, I remembered the Birthday Party Directory on Springfield Moms. We went over the list and got so many great ideas. It is a fabulous resource and difficult to maintain, I am sure. Keep up the good work!"
Business sponsorships for the website have more than tripled in the past year. Little anticipates even higher advertising growth as Springfield Moms continues to offer a targeted marketing approach for local area businesses in a cost-effective and high-visibility way. Even out-of-town attractions have taken notice and purchased advertising packages.
Website visitors can sign up for free E-Updates, sent twice monthly with the latest events, helpful articles (including the popular Ask the Professional series) and money saving deals. Visit the Springfield Moms website at www.springfieldmoms.org.   ###
Pin It