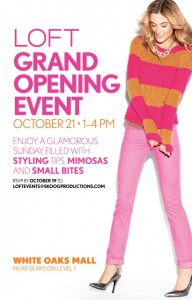 We're so excited to be part of LOFT's opening events this month at White Oaks Mall! What mom doesn't enjoy an hour or two to herself?  Join us at LOFT to browse, shop, have a treat and meet other moms! Sunday October 21st from 1:00-4:00 p.m.  It's going to be a glamorous Sunday filled with styling tips, mimosas and small bites. Enjoy social time while shopping in their wonderful array of comfortable, stylish and on-trend fashions! 
Thank you to Christina Robinson Race and Julie Staley for joining me as co-hosts of this fun shopping event!

We've set up a pinterest board with some of our favorites to start!
This October, LOFT evolves their continued support of The Breast Cancer Research Foundation (BCRF) through the unveiling of "Live in Pink"–a very special partnership with Giuliana Rancic, anchor of E! News, co-star of E!'s popular Fashion Police team, style personality and breast cancer survivor. Get inspired by Giuliana Rancic's style or make the look your own. Visit LOFT.com during October to see Giuliana's "Live in Pink" looks. The capsule collection, designed by LOFT, includes a fuchsia mini flounce dress, the perfect pink skinny cords, a sequined pink skirt, a heart-print blouse, sparkle ballet flats, a thick-knit infinity scarf, drop earrings and statement graphic tee. All pieces will be available in select LOFT stores and at LOFT.com. Items range from $34.50 to $89.50 and 25% of the full-price purchase of each item will be donated to BCRF.  I already purchased one of their scarves from this line and love it.
Tell your friends, bring a friend and enjoy the special things in store for SpringfieldMoms.org readers!  LOFT is located on the same wing as Sears across from Gymboree.   For a preview of all LOFT fashions visit their website.  Thank you LOFT for providing a $150 gift card to splurge on a new outfit to wear at this very special event!   Hope to see you there!