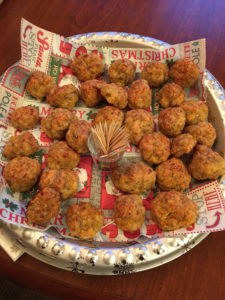 This has been a family-favorite of ours since the 70's, and they taste AMAZING in any decade.  The tray always disappears quickly after they come out of our oven.  Recipe by Kim Leistner Root Recipe for Sausage Balls (about 50-60 small size or 30 larger size)
2 Pounds sausage (uncooked)
16 ounces grated cheddar cheese
2 cups Bisquick (preferred) or all-purpose baking mix.
Blend in Cuisinart or by hand.  Shape into balls. Arrange onto a 
greased
cookie sheet.  Bake at 350 degrees for 15-18 minutes.  Watch carefully and take out when bottoms are done, and they are golden brown. You can make them the day before and refrigerate or freeze them uncooked and pop in the oven for small or large gatherings.    If you want a firmer texture, add more baking mix or cheddar cheese to your liking. Serve with toothpicks!