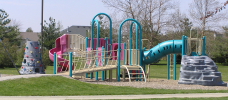 Location: Iles Ave. & Archer Elevator Rd.
Comments: Playground area has a rock climbing wall.  Rotary park is great for toddlers and The early elementary age…the wall climb and slides are just the right size and there are plenty of swings. It's small so you can keep a close eye on your little ones!
The park contains 3 baseball fields clustered in the site's northeast quadrant, soccer and football fields and a half-court basketball court. Two tennis courts are in the center of the loop road. A picnic shelter is provided on the park's west side and a large concession/restroom/picnic shelter is provided on the park's east side. A 4,000 foot pedestrian trail interconnects the park facilities and extends along Archer Elevator Road. Vehicular access and parking is provided by a loop road with adjacent parking through the center of the park. The entrance is off West Iles Avenue.
The park is well used for league sports and periodically overflow parking must be accommodated on the turf along Iles Avenue.
Playground: Yes Playground on the west side of the park
Surface: Wood Chips
Picnic Area: Yes
Shelter/Pavilion: Yes
Restrooms: Yes
Nature Features: Walking / Jogging Path
Sports Facilities: Baseball, Softball, Basketball, Soccer, Skateboarding, Football, Tennis
"I like Rotary Park because there isn't a lot of traffic where the playground is. The playground is nice without being too spread out for us with several children!" ~ Carol K.
"Small and cozy, close proximity to west end shopping complexes." ~Melissa S.