Are the demands of work, family and all of your other commitments keeping you from quality time from your significant other? For those with kids, do you remember life with your spouse before children? Has sleep become a forgotten luxury?
When was the last time you spent a few responsibility-free hours alone together? Beg, borrow or steal a babysitter/petsitter and make your escape for a weekend away. 18-24 hours away can be rejuvenating! You'll be amazed at the difference a night can make! (Remember to tell them SpringfieldMoms.org sent you!)
Mission Oak Inn: Henry, Illinois. Mission Oak Inn is a country bed and breakfast near Peoria, Illinois that offers luxurious lodging in a quiet, comfortable atmosphere – a perfect place for a weekend getaway, honeymoon, or fishing vacation. the inn is located on 120 acres with a private 7-acre lake, abundant wildlife such as deer, fox, coyote, wild turkey, and numerous other birds. Near Peoria, Starved Rock State Park, and Utica; it is also a comfortable driving distance from Chicago, Bloomington, and Quad Cities.While good at creating a romantic setting for that perfect weekend getaway, the owners' expertise does not end there. They offer packages for those who love to golf as well as friends taking some time to get away. Phone: 309-370-4083.
Historic Petersburg: The Branson House Bed and Breakfast. This beautiful 1876 "Eastlake" Victorian bed and breakfast can be found near Lincoln's New Salem. Four tastefully decorated rooms, each with private bath, are located on the second floor, accessible by the house's elevator. The house has seven marble fireplaces plus a gorgeous wood sculptured fireplace in the main entry. A full breakfast is included in the rates. Phone: 866-562-5095 or www.BransonHouseBnB.com.
"Blessings on State B & B in Jacksonville- Lovely & wonderful hospitality!" -Shanna, blessingsonstate.com Check out SpMoms detailed review of Blessings on State on our Blog!
Dr. Jazz Soda Fountain and Grille and Dr. Jazz Suite in Lebanon (outside of St. Louis) Located just an hour and fifteen minutes south of Springfield, off of Illinois Route 4, sits the wonderfully old and quaint town of Lebanon , which offers fabulous downtown shops including Fezziwigs and the amazing Dr. Jazz Soda Fountain and Grille offering delicious lunch and dinner fare. Owner Paul Krumsieg and his family renovated their upper level into a classy and comfortable getaway suite with two bedrooms and a billiards/bar/television room. The owners have thought of everything from pillow-top mattresses and luxury bedding to a flat-screen television with videos/DVDs and refrigerator stocked with your favorite ice-cream flavors from the downstairs soda fountain. Dr. Jazz Soda Fountain & Grille & Suite is located at 230 West St. Louis Street in Lebanon , IL. Phone is: 618-537-2200 or visit their website at: www.drjazzsodafountain.com.
Historic Elegance: The Vrooman Mansion. Our readers say it's a step back in time…Built in 1869, the Vrooman Mansion (located an hour north in Bloomington) provides a beautiful atmosphere for you to reconnect with each other. The mansion sits on a park-like acre in the middle of the city. High ceilings and gorgeous windows highlight the spacious guest rooms, most with private baths. A delicious breakfast greets you in the morning at the home's original hand-carved dining table where dignitaries including Adlai Stevenson and Eleanor Roosevelt once dined with the Vrooman family. Fabulous woodwork, stained glass and leaded beveled glass windows adorn the common areas downstairs. Phone: 309-828-8816.
Rustic and Unique: The Barn Bed and Breakfast. For any couple who loves the outdoors and is searching for a unique weekend away, consider renting a barn for a night, located between Peoria and Galesburg. You will enjoy the entire barn with a full kitchen in the "horse stall," a claw foot tub and shower, and a hayloft for additional sleeping room. Antique furnishings, wildflower walks, and a variety of wildlife make this visit a memorable one. 309-639-4408
The Pasfield House: Close to home – Springfield style. (We won't tell if you escape in town!) An invitation to the historic Pasfield House is like being welcomed to an elegant private home from a bygone era, where style, gracious hospitality and exceptional service is still a way of life. Designated a Springfield Landmark, the 1896 Georgian-style residence is a remarkably preserved architectural treasure that has a most distinctive antebellum flair, and is within easy walking distance of the State Capitol and downtown Springfield. Phone: 217-525-3663.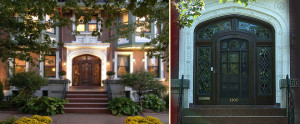 The Fleur-de-Lys Mansion in St. Louis, Missouri. This is an amazing get-away close to The Hill, St. Louis University, the Fox Theater, Powell Symphony Hall. You are an easy drive from the zoo, Busch Stadium and so many other fun activities. But you might not want to leave the Mansion because the rooms are so comfortable, the beautiful garden area beckons and the hot tub is always ready to go. Plus, there are homemade chocolate chip cookies always ready for munching in the kitchen. Owners and hosts Jan and Dave have thought of everything, and the made-from-scratch breakfast is a delight with generous portions and all the extras. TripAdvisor gave it a #1 ranking for bed and breakfasts in St. Louis, and you will agree. Phone: 314-773-3500.
For more suggestions: check out the 15+ additional reader recommendations from our facebook survey! There's a treehouse getaway on the list!
Did we miss one?
Share your favorite romantic getaway comment here or email Springfield Moms.