We don't all have the option to travel far away for a romantic retreat.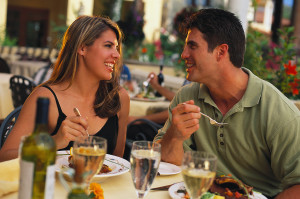 But, we can agree that one of the best things you can do with your spouse or significant other is steal away a little alone time without kids!
Whether it be a dinner and a movie or just dinner, there are some great spots in Springfield to have a nice meal, drink and enjoy the opportunity to gaze longingly into your honey's eyes.
We asked our readers for their favorite hot spots.  Let us know what else you recommend!
Restaurants
Other Hot Spots
Lincoln Memorial Gardens – Thanks to SpringfieldMoms reader Elizabeth B. for the recommendation! She says "Nothing beats walking together through Lincoln Memorial Gardens (any time of year, really)."
We created a list of recommended Out of the Way Restaurants in the greater Springfield Area as well.
Post below or email us your favorite spots!
Ideas compiled by Springfield Moms staff writer Kari Thevenot.  She is the owner of Your Left Hand Virtual Assistant and Training.