Recycled fashions for your family and home.
130 S John St (next to The Silo) Rochester, IL 62563
217-498-9434  www.remarkableresale.com

Hours: 9:00 a.m. – 6:30 p.m. Monday -  Saturday, 12:00-5:00 p.m. on Sunday.

Like Us on facebook!
Featuring ladies, maternity, juniors, children's, and young men's clothing and accessories; books; home decor and furniture.
We are very selective in the items we accept so we can offer our customers the very nicest selection.
Shopping Rewards: We offer layaway, a 7-day return policy, a frequent shopper's reward program, a wish-list, coupons, and ways to save money on great items for your whole family!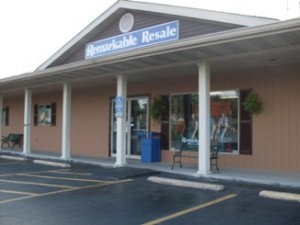 New items arriving daily!  
Now buying clothing for the family and home décor for cash. Use your credit to make purchases immediately or receive a check on the first of the month if your store credit account is $15 or more.
Buying Hours – Monday through Saturday 9-4 and Sunday 12-3.
Kitty Boyce, Owner
 

Show this coupon on your Smartphone or Print this coupon from and receive $5 off your next purchase of $25 or more. One coupon per family.

Expires: 11-30-14