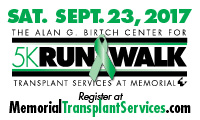 The Alan G. Birtch, MD, Center for Transplant Services
Every year, more than 28,000 men, women and children receive life-saving organ transplants according to UNOS, United Network for Organ Sharing. We are proud to say our Kidney Transplant Program and Surgery Services contributes to the thousands of people who benefit from kidney transplant surgery.
Transplant Program History
Founded in 1972 by Dr. Alan Birtch, professor emeritus of surgery at Southern Illinois University (SIU) School of Medicine, has provided more than 900 transplants to date.
This video was created as a tribute to our hospital-wide commitment to organ and tissue donation and transplantation. Information is from 2009-2012. Interviews are of Memorial Medical Center patients, however not everyone pictured was treated at Memorial Medical Center.
Hope to see you on September 23rd!