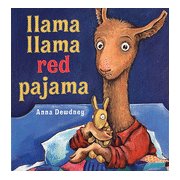 We began reading to our children when they were born. Thanks to very generous gifts from family and friends, our bookcase is very stocked with wonderful children's book!  Many days, when playtime is winding down, and you can tell that your child is growing tired and just a little cranky, take that opportunity to have a few minutes of quiet reading time before he or she goes to sleep for a nap. Several books on our shelf are perfect for relaxing before naptime.
I Love You Stinky Face

by Lisa McCourt. A little boy's mother tells him she loves him as she tucks him into bed, but he wonders if she would still love him if he were a dangerous alligator, green alien or super smelly skunk. She reassures him that she would!

Llama Llama Red Pajama by Anna Dewdney. Baby Llama gets in quite a tizzy when Mama Lllama is too busy to comfort him after he goes to bed. She needs to remind him that she's never far away from him.
Caterpillar Spring, Butterfly Summer by Susan Hood. The caterpillar steps out into spring and makes new friends until it is time for a long, deep sleep. When he emerges, it is summertime and he is a butterfly! (This book has a pop-out caterpillar that Connor love to grab!)
Big Red Barn by Margaret Wise Brown. The children are away, and that means the animals can play all day on the farm, from the pink pig learning to squeal to the rooster and hen with their clutch of eggs. From sun-up to sun-down, the animals enjoy the big red barn, and the last page ends with all of the animals asleep on the farm.
For more recommended Book Nook picks for the infant to 2-year-old crowd, check out our list here.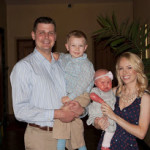 Submitted by Springfield Moms contributor Courtney Westlake who is mom to Connor and  Brenna and wife to Evan.