Thanks to our readers who shared their favorite Thanksgiving traditions two years ago.  Read them for inspiration as you gear up for this year's holiday!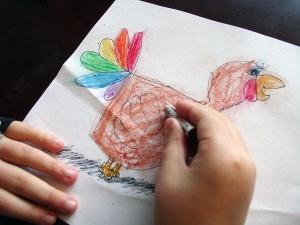 We watch football and look at ad flyers – Tammy E.
We all bring gifts from our home and play the white elephant game, and football of course! – Ashley T.
Our family sits around the table asking God's blessing then we all share something we are thankful for…the best is listening to the kids because we remember how humble holidays are supposed to be… – Allison B.
Our family tradition is spending the day with family and friends. We usually have so much food we call people who are working the holiday and have been known to take them food since they aren't able to spend the day with family. It usually concludes with cutting out ads and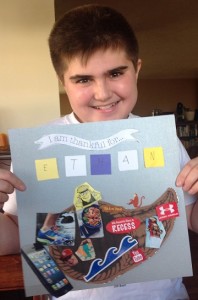 finding the best deals, and figuring out who is going where on Black Friday. – Olivia A.
Everyone gathers and brings a dish and the kids all play as we prepare everything. Then I leave to go shopping! – Christina W.
Watch the parade, eat lots of food, and play cards together! – Chelsea S.
We eat like champions then lounge around before we draw names for Christmas. – Stacia S.
Just being together with Family is what it's all about! – Sheila S.
I am Italian and our Thanksgiving always includes having 40+ people crammed into one of three2 bed/1 bath homes (rotating by year/holiday). Holidays in my world are filled with 1) family 2) food 3) noise and very little football because no one could hear the TV anyhow. – Leah B.
Let the kids cut out the pictures of what they want for Christmas from the black friday ads and gluing them on a piece of paper. – Marlene H.
Last year we used free printables from Moomah to make collage placemats of the things we were thankful for. We made them early in November so we could enjoy them all month long. – Lisa W.
Please leave a comment with your family's favorite Thanksgiving traditions!

Click here to see our Thanksgiving Pinterest board – crafts, food and more!