Looking for an easy romantic getaway?

We asked our SpMoms Facebook followers to share their favorite Bed and Breakfast or charming hotel within a 4 hour drive of the Springfield IL area. Sometimes an 18-24 Hour getaway is the best recipe for reconnecting and rejuvenating!
Check out these reader-approved retreats!
"Blessings on State B & B in Jacksonville- Lovely & wonderful hospitality!" -Shanna, blessingsonstate.com Check out SpMoms detailed review of Blessings on State on our Blog!
"Brightwood Inn in Oglesby IL – Quaint!" -Vaneza K. also recommended by Melissa C. and Denise M. brightwoodinn.com
"Bishops Hall Bed and Breakfast in Oak Park, IL" -Natasa W. bishopshallusa.com
"Jumers Chateau in Bloomington. It is very uniquely decorated and the on-site restaurant is amazing!" -Leila L. bloomingtonchateau.com
"Shawnee Hill Bed and Breakfast in Makanda, IL" -Lindsey L. shawneehillbb.com
"Piece of Earth Lodge" – Josh B. peaceofearth.net
"Ten Acre Treehouse in Nauvoo for a unique experience" -Jessica B. facebook.com/Ten-Acre-Treehouses
"Queen Anne Guest House Galena, IL" -Kim P. queenanneguesthouse.com
"Vrooman Mansion, Bloomington/Normal. Beautiful place to stay, period furniture. It's like stepping back in time." -Angie B. vroomanmansion.com
"The Green Gables Inn, White Hall" -Mandy A. greenegablesinn.com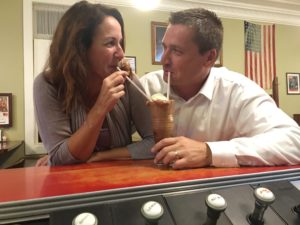 "Dr. Jazz Soda Fountain/Grille" in Lebanon, IL- Julie K. & Kim R. drjazzsoda.com/
"Makanda Inn & Cottages on the Southern Illinois wine trail" -Jenny V. & Kelly B. makandainn.com
"The Loft on the Square – Petersburg, IL" -Katie C. facebook.com/pg/Theloftonthesquare
"Beall Mansion in Alton IL. The owners are super nice and the B & B was beautiful." -Vanessa F. http://beallmansion.com/
"Pere Marquette Lodge" -Crystal J. pmlodge.net
"House of Nahum, Shawnee National Forest. Quiet, hiking trails, and beautiful! Great for anniversaries." -Tammy G. bbonline.com/united-states/illinois/harrisburg/houseofnahum
"William Watson Hotel in Pittsfield IL" -Andria C. williamwatsonhotel.com
"Sunset Inn Fantasy Suites, Clinton, IL" -Amber M.
You will find more recommendations on our Romantic B&B Get-Away post.
Thanks to Good Day Marketplace for showcasing our Boredum Busters for Kids & Romantic Getaways for adults on their show!