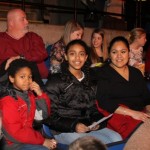 We love to hear from you! Our readers are the fuel that keeps us going. Check out these reader compliments.
"Springfieldmoms.org has all the best lists - neighborhood garage sales, fall festivals, Kids Eat Free. Whether I'm looking to save time or save money, when I want to get the best of it all, they're my source of information!"  Breanne Claire, Springfield
I use the What's Happening Calendar so I can keep up with events going on in the greater Springfield area.  Michelle Nutter, Lincoln

 "I love the A to Z Index Tab. So much information right at my fingers.  I use it all the time when I want to do something with the kids or when I need a resource it's so useful."  Katie Mefford, Springfield

"As a mother of a teenager and toddler, Springfieldmoms.org keeps me informed of everything going on in and around Springfield. We use it to get ideas for day trips, restaurants and special events. Springfieldmoms.org is such a time saver! It is all in one place and I don't have to scour the internet to find what I need." Lindy Wilkinson, Springfield.

"I use your site often as a resource for the latest events for my kids.  Thanks for all you do!" Molly Kershaw, Williamsville

"I just added this website to my favorites. I love it. As a mother of four children I appreciate the coupons, free events, and garage sale listings. Keep up the great work!"  Shanna Elliott, Rochester

"I have twin girls so I am always on the website searching the "Dynamic Deals" section, and have found some awesome coupons! I also love the Community Corner and the Featured Events section. We are always looking for things to do on the weekends, and this has given us some great ideas! I definitely recommend this site to all of my mom friends!" Chelsea Prehn, Chatham.

"Springfieldmoms.org is the website I use when I have a question about anything related to kids, families, and what's going on around Springfield. It's a trusted resource with the latest information which I always find most helpful. Plus, the website contributors feel like friends...and you can always use a few extra moms on your side!" Jennifer Powers, Springfield.

Victoria Kegg of Blue Daisy Art says: "Thank you too for creating Springfield Moms, as it has not only been a great resource for myself as a mom but also as a business owner!"

"Just wanted to let you know about a great website for family-friendly activities and educational events going on in the Springfield area. They have just about everything you can think of that's of interest to parents from great deals on kids' meals at restaurants to ideas for family getaways or stay-cations. They even have a section for yard sale advertisements, which is awesome in the summer!" Irma Anaya, Springfield.

"First experience on skates was a free skating lesson at Nelson Center. I have discovered so many great activities thru Springfieldmoms.org. Check it out for coupons, discounts, kids eat free locations, and birthday party ideas. Cynthia Parkhill.

"Springfield Moms has the scoop on EVERYTHING going on in our area for kids and families. I love the coupons too!" Chelsea Smith.

"I am reader of several years. You have a fabulous page!!!  Springfieldmoms is one of the big positives on the internet.Thank you so much for your wonderful website and the time you take to do it. I check it at least twice a week, usually more.  Thanks again!"  Bridget Butterick
"I just got the E-Update from SpringfieldMoms about the new Valentine's Day Resources. Since I am planning the games and activities for my 3rd grader, I was thrilled to find all of the resources I needed in one place. Normally I try to do the research on my own (google different activity sites, blogs etc.) This saved me so much time – 5 minutes and I have a pile full of printables, how to make an origami heart & other game ideas. Thanks for the great resource!" Amy Peterson, Springfield.
"My husband and I just moved to Springfield in December 2008 and now have a 6 month old daughter. Your website has been incredibly helpful for me being a new mom and a new resident of Springfield. Thank you for this great resource!" Danielle Costello, Springfield
"Your website is soooo helpful. We use it all of the time : )" Tressa Hartman, Springfield
"I just wanted to tell you how much I appreciate www.springfieldmoms.org. My older daughter Abby just turned 9. Despite mulling it over all summer, we could not decide what to do for her birthday party. With time running tight, I remembered the Birthday Party Directory on Springfield Moms. Abby and I went over the list and got so many great ideas. It is a fabulous resource and difficult to maintain, I am sure. Keep up the good work!" Gail Noll.
"Your current issue is so helpful. I have bookmarked two web sites you highlighted, the one on homework help and the one on movie ratings for kids. Thank you for your hard work and very helpful web site." Tara McAndrew, Springfield.
"This is one of the best moms' sites I've ever seen, and I love your E-Updates too." Sarahbeth Spasojevich, Springfield.
"I look at your website at least twice a week to see what is happening. I love the information ...it's a one-stop shop. Anything we need to know about events, vacations, coupons, or places to see is all there. We are all busy with our kids, so saving time is key!"  Jennnifer Jennings, Springfield
"As always, love the Springfield Moms!" Sarah Chandler, Springfield
"I love coming to your website, practically everyday, just to see if there is something I missed!" Michelle Schiff, Springfield.
"Keep up the great work! It's all very good information!" Rob Winchester, Springfield.
"I found more information in one spot, than I had found in a month of looking on my own. It's information that every mom needs to know, but doesn't have the time to find on her own. Thank you so much for such a wonderful website." Michelle Schlag, Auburn.
"I just added this website to my favorites. I love it.  As a mother of four children I appreciate the coupons, free events, and garage sale listings. Keep up the great work!"  Shanna, Springfield.
"I would love to get your e-newsletter! Many years ago I was looking for something like this as I never seemed to know what was going on and always found out too late." Stephanie Newhouse, Springfield.
"We moved to Springfield two months ago from Chicago. Many women have recommended your website! It is very informative." Julie Nathanson-Abrams, Springfield.
"I love your website and newsletter! I have been receiving it for quite some time, and I appreciate all of the information that you can't find anywhere else! " Jennifer Snow, Sherman.
"I was thrilled to see such an impressive website and that there is such support for moms and dads in the community." Dawn Abraham, relocating from North Carolina.
"I just got your email update this morning and read the full newsletter before 8:45a.m. .... great issue, as always!" Lisa Barutcu, Rochester.
"I had just moved to Springfield, and without the Springfield Moms website, I would have been lost....thank you!" Melissa Hostetter, Springfield.
"What a great one stop 'shop' for Moms! Sometimes there is so much going on locally that you miss what is right under your nose, so it is nice to have a list of local events." Samantha Boston, Springfield.