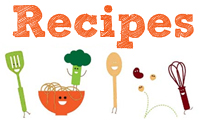 We asked SpringfieldMoms readers to post their favorite recipes with 5 or fewer ingredients. Wow, what a great response! We've been making our menus using these excellent suggestions. Enjoy!
Main Dishes
Crockpot Italian Chicken: 1 bag frozen boneless chicken, 1 packet dry Italian seasoning, 1 jar peppercinis (w/ juice). Shred & eat! (on bun or plain) – Sarah E.
Easy pasta: cook any kind of pasta (we like penne) in boiling water. In a separate skillet melt butter and sautéed asparagus pieces and pancetta until tender and crispy. Drain pasta, add butter, asparagus and pancetta to the pasta. Serve with grated Parmesan cheese on top. Serve with tossed salad and garlic bread. – Lindsay C.
Crockpot Roast: Roast, carrots, potatoes, A1 and water all in the crock pot! – Erika B.
Chicken on the Stovetop: Chicken breasts, 1 can Coke, 1 cup ketchup. Mix coke and ketchup in a shallow pan. Heat on stovetop. Cook chicken breasts. Makes a yummy sauce! – Heather D.
Frito salad: lettuce, beans, onions, Caesar salad dressing, Fritos on top. – Jennifer L.
Chicken spaghetti. Spaghetti noodles (boiled), cook chicken (we use boneless skineless chicken breast) with canned rotel tomatoes and a block of velvetta cheese. Once done mix, with the drained noodles. Quick and yummy! – Amanda W.
Crockpot pizza.:1lb browned ground beef, pepperoni, rotini (cooked by package directions), 2 cups mozarella, 1 tablespoon brown sugar. Mix together and put in crockpot low for 4 hours. – Shannon P.
Sausage Pasta: kielbasa sausage, canned tomatoes (or rotel), pasta, cream, chicken broth. Slice and brown sausage (you can add onions or bel pepper if you'd like) in large skillet, add tomatoes and uncooked pasta, pour in a box of broth and 1/4-1/2 cup heavy cream. Cook until pasta is cooked through and sauce thickens. You can also throw in some Monterey Jack cheese at the end. (But that would make it more than 5 ingredients) – Erin D.
Crockpot Chicken and Rice: 1 bag frozen chicken breasts (thawed), 1 bag baby carrots, 1 box Zatarain's dirty rice and 1 family can cream of chicken soup. Put all in crock pot and cook. – Kim W.
Crockpot chicken noodle soup: boneless skinless chicken breasts, 2 cans cream of chicken soup, butter, chicken broth and frozen egg noodles. Cook chicken, soup, butter, and broth in crockpot on low for 6 hours. Take chicken out and shred. Put chicken back in; add noodles and cook on low for 2 hours. Stir a few times while cooking. I served this over mashed potatoes yummmmmy !! Family LOVES it.. – Tom and Amy
Hamburger casserole: Hamburger, cream of mushroom soup, tater tots. Bake. – Marie Z.
Slacker Maidrite Sandwich : ground turkey.. Brown sugar, ketchup, mustard and vinegar.. All to taste. 7 minute meal tops! – Sabrina R.
Crock Pot Pulled Pork Sandwiches: 5-6lb pork loin; 1 bottle of Meat Smack Original BBQ sauce; 1/2 bottle of Meat Smack Raz-Chipotle sauce; 2 cups water; 1 tsp chopped Garlic. Put the roast in the crock pot. Pour remaining ingredients over top. Cook on med-high 6-8 hours.It will shred with the touch of a fork & is delish!!! – Jennifer G.
Chicken Casserole: 4-5 boneless Chicken breasts, 2 cans each cream of chicken and mushroom, 2 cans of milk, 1 cup instant rice (Optional top with chunks of butter). Mix all ingredients and pour over chicken. Bake at 350 until chicken reaches 165. – Alicia N.
Italian beef: Cook beef in crock pot over night. Shred when done. Put shredded beef, beef broth, and Italian dry salad dressing seasoning back into crock pot until ready to eat. – Mary Ann U.
Beef Stroganoff: Stew meat with cream of onion & golden mushroom (garlic) soup in the crockpot low 6 hrs, then add a block of cream cheese & cooked egg noodles. Very easy beef stroganoff that my kids LOVE. – Michelle T.
Crockpot Mac n Cheese: 12oz can of evaporated milk; 16 oz box of elbow macaroni; 3 cups of shredded cheddar cheese; 8 oz cream cheese; 2 1/2 cups of milk.
Turn on low until noodles are tender. – Jen B.
Mexican Chicken: Jar of salsa & chicken breasts in crockpot. Cook all day on low. Shred chicken and add bag of frozen corn & jar of black beans 1 hour before serving. Serve in tortillas, over rice, or whatever. Can also top with usual taco toppings. – Shauana J.
Crock Pot Chicken Tacos: 1.5 lbs frozen boneless/skinless chicken breast; 1 can Rotel;1 pkg taco seasoning. Put chicken in Crock Pot, pour Rotel on top, sprinkle taco seasoning on top of that. 4-6 hours on low. Shred last hour of cooking. I sometimes will add another can of Rotel and extra cumin if I want a little more spice.
So. Yummy. – Nicky B.
Shredded Pork Sandwiches: Put pork roast in crock pot and smoother with banana peppers and the juice out the jar. Let cook 8 hrs and meat just falls apart and place on hoagie bun. Supper good sandwiches n easy. We usually serve with tortilla chips n nacho cheese. – Angela M.
Stuffed Peppers: Green peppers, rice, ground turkey, chunky salsa, mozzarella cheese. Cut top off of pepper. Remove seeds and hollow out the inside bake on a cookie sheet. Brown ground turkey & season to your liking. I prefer garlic & green onion. Then stir in tomato paste & chunky salsa. Cook rice separately. Then combine both meat & rice together. Layer meat & rice mixture & mozzarella cheese inside green pepper, top w/ cheese. Then bake on 375 for about 45 mins or until cheese on top is melted & pepper is tender. Enjoy!! – Brittney A.
Mexican Inspired Macaroni & Cheese: 1 pound ground meat of your choice; Velveeta Shells and Cheese; 1 jar of salsa. Make the macaroni according to instructions on box. Brown your meat. Add the salsa and stir! It's yummy and fast on nights you don't have time to cook a regular meal! – Missy O.
Soups/Chilis
Best Soup Ever…beef broth…a jar of salsa…cheese tortellini. ..and parmesan cheese…20 minutes and amazing. – Aimee M.
Five can chili: one can each of: chili beans, kidney beans, pork n beans, tomato soup, diced tomatoes. Add a little water if you don't want it too thick. Heat and eat. – Becky W.
Appetizers:
Pickle wrap dip – 8 oz cream cheese, 1 cup sour cream, 1 tsp onion powder, 3/4 cup dill relish and 5 oz dried beef, finely chopped. Combine cream cheese, sour cream and onion powder. Stir in relish and beef. Cover and chill for 2 hours. Serve with crackers or veggies. Tastes just like pickle roll ups but much easier to make! – Liz E.
Frito dip – medium container sour cream, jar of bacon bits, 1 lb shredded cheddar, packet of dry ranch dressing and Fritos or Ritz crackers. Mix first 4 ingredients for dip. Use either Fritos or crackers to dip in it. – Con Sue A.
Guacamole: Avocado, tomato, onion, mccormick's guacamole packet, and chips. – Rebecca S.
Tomato Tuna Dip: tuna, diced tomato, rice, mayo, diced onion (salt n pepper optional). So delicious. Can be eaten alone or dipped with saltines. best when chilled. – Amanda K.
Taco dip: mix sour cream & packet taco seasoning & spread out on a cookie sheet lined with foil (makes cleanup easy!). Pour a jar of taco sauce on top and spread over mixture. Top with taco cheese and eat with tostitoes. Easy, fast and a hit at parties! – Tammy G.
Desserts:
Ice cream cake – ice cream, hot fudge, and crumbled up cookies for the crust! – Keely B.
Pumpkin Bake – 1 can of pumpkin, 1 cup of water, 1 box of yellow cake,1 bag of cinnamon chips!!! Mix all together and bake like cake box says and that's it!!!! – Kammy F.
Peanut Butter cookies: brown sugar, vanilla extract, peanut butter, 1 c. sugar. – Shanon S.
Cup-Cakes= 1 box angle food cake mix, 1 box your choice cake mix, add them together in one ziploc baggie, take out two tablespoons full and couple teaspoons of water- put in microwave for two minutes== instant mini cakes for kids. – Nicole S.
Party Oreos: sweetrosestudio.com – The recipe is fun, pretty, and easy for your little and big ones to do! Use any color Oreos ans sprinkles for every holiday! – Holly D.
Gingerbread truffles: 8oz cream cheese, softened, one bag of gingersnaps and white chocolate chips. Put bag of gingersnaps in a food processor, mix with cream cheese. Freeze for an hour. Melt chocolate chips, dip truffles in the liquid chocolate, let harden on a plate. You're welcome. – Gina A.
Dump Cake: 1 can crushed pineapple, 1 can Cherry Pie Filling, 1 box Yellow Cake Mix, 1&1/2 sticks Butter, melted. Preheat oven to 350*. Dump Pineapple into 9×13 pan, juice & all. Spread evenly. Spoon Cherry Pie Filling over pineapple as even as possible. Sprinkle dry cake mix over Cherry & Pineapple. Drizzle Butter evenly over entire cake. Dry spots are ok…actually suggested! Bake in preheated oven for 25-30 mins. Remove & enjoy warm!!! P.S. This recipe works great with any fruit pie filling & also with pumpkin!!! – Jennifer G.
Salads and Sides:
Toddler Tropical Salad: 1 can mandarin oranges, 1 can pears, 1 can pineapples, 1 1/4 cup vanilla yogurt, marshmallows. Mix, chill, serve. – Jodi T.
Roasted cauliflower: chopped cauliflower, Olive oil, salt pepper, shake in a bag and pour onto foiled cookie sheet, bake at 425 for about 25 minutes. – Kelly H.
Snack:
Pumpkin pie dip: One can of pumpkin, One box French vanilla pudding, One tub of cool whip. Mix ingredients together. Mix in pumpkin spice to taste and serve with Nilla wafers. – Carrie T.
Breakfast:
Morning Oat-cakes: 5 eggs, 2 cups oats (may need to add more if mix is runny ), 1 tablespoon cinnamon, 1 sliced banana. Mix well. Coat omelet pan ( I use butter), pour in. Cook on medium heat. Cut into quarters as gets solid to flip. – Kris T.