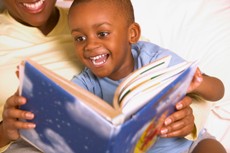 Looking for something fun to do with your kids? Pack a picnic and drive to the Chatham Area Public Library for a few hours. Chatham's library has a colorful Kids Area complete with a miniature library and climbing tree, a puppet theater, stuffed animals, rug games, puzzles and more. There is also a convenient cafe and used bookstore.
If you are in shopping or eating mode, the Bahlow Bookstore offers gently used books, magazines, movies, audio books and more at bargain prices. The Bank and Trust Cafe offers kids seating with coloring sheets and colors as well as coffee, hot chocolate, juices, sodas, ice-cream, munchies and pastry items available for purchase. Parents are encouraged to bring in a picnic lunch with their kids and eat in the cafe before hitting the library's many popular destinations.
And if you would just like to check out items for free from the library's expansive collection, be sure to bring your library card. The Chatham Library accepts Lincoln Library cards so don't worry about not being a district resident.
For more information about the Chatham Area Public Library and its programming, including Summer Reading programs, visit their website at http://www.chatham.lib.il.us/ and sign up to receive their E-Newsletter. They are located at 600 East Spruce in Chatham.
Area visitors weigh in with their opinions on Chatham Area Public Library:
"We love the library and look forward to our weekly visits. We homeschool so the library provides a much looked-forward to break from studying at home. The library provides a quiet, spacious, well-lighted and friendly atmosphere, which is very conducive to studying."
"My children have access to learning toys and supplies that they do not have access to at home. My son loves the stories on the computer. Great place to play pretend and enjoy social interaction with other children and adults."
"Excellent staff with fantastic service for our entire community."
"Very clean. Great people, very helpful. My children really love being here!"
"Wonderful children's area. Cafe with bookstore is great. Computers are the best with Internet access."
"Now that Springfield has cut out/eliminated its branch libraries, it's important to me that Chatham continues to provide resources and services."
Submitted by Julie Kaiser