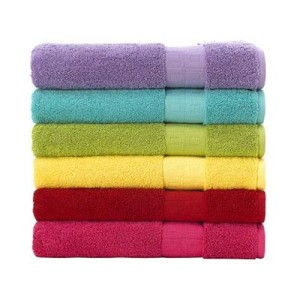 Thanks to Springfield Moms contributor Amy Peterson for these practical tips for keeping the bathroom livable with your tweens and teens.
"We have one bathroom at our house – and five people sharing the bathroom. When they were little, we had the hooded towels and the baby bath…..dirty clothes were tiny and placed in the hamper. All the bath toys were corralled in a plastic tub. Life seemed hectic when the kids were little but it was simpler – now we have entered an entirely new type of chaos.
When our family grew up to include three teens/tweens, we still only had ONE bathroom! It became extra challenging to keep track of all the stuff (hair products, body washes, etc). Then there was the towel issue – I had all matching towels – but after a while it got more difficult to remember who used what towel – yuck!
My brilliant idea came to me one day – color coded towels. I have always had "colors' assigned to my kid's stuff – cups, plates, beach bags, etc. Why not carry it over into the bathroom? I thought this would be a good way to train them for college dorm room life."
First Step: Pick a color and buy two of each: bath and hand towels plus wash cloths for each child. I also have scrubbies for the shower in the same color.
Second Step: Buy each child a "shower caddy." If you cannot find the matching color to their towels, put their name on it. www.containerstore.com
Third Step: Get a plastic tote or tub (large enough to hold the clean towels & shower caddy). This doubles as a place for their dirty clothes/towels to be transported back to their room (each child needs a laundry basket in their room for the dirty clothes).
Fourth Step: Put a few 3M hooks in their room to hang their towels to dry.

I got lucky – my kids' "colors" are blue, green and pink (or red if pink is not available). I found shower caddies and baskets in those exact colors.
Having their own towels helps keep yours from getting ruined. Prior to doing this, I have had several of MY towels ruined because someone has used a hand towel right after using a product with acne stuff in it and bleaching the towel.
Plus it just makes everyone feel more organized and keeps the bathroom manageable during those morning hours when everyone is trying to get out the door at the same time!
Submitted by Springfield Moms reader and frequent contributor Amy Peterson. She and her husband live in Springfield and have three children.