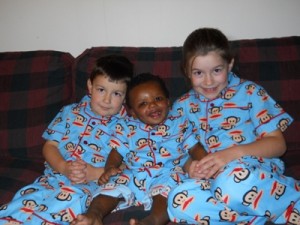 Special thanks to contributor Erin Predmore who shared her family's adoption journey with our readers.
"Dear J.,
I hope this letter finds you well. Everything with us is OK and very busy – M is growing and laughing – his favorite game is to jump off the last stair and yell "go, go!" He's also full of activity and seems to be everywhere at once. He's got your smile – I know I've mentioned that to you before, but it never fails to surprise me when he smiles or laughs – it is your smile coming back at me…."
I never ever imagined writing a letter like this when I thought about my future family. But that's what is funny about life – you have no idea where it will take you. My husband and I have 3 children – 2 biological children and 1 adopted child. Every adoptive family travels a different path. For us, we decided to adopt after we had "replaced ourselves on the earth" as my husband says. We didn't feel our family was complete yet, and so, after watching my sister adopt, we began to seriously consider the option for us as well.
M came to us after we completed our home study, attended our classes, and began the exhausting process of applying, waiting, and praying. We got the call one afternoon when I was out with my daughter at gymnastics. When the adoption worker said, "well, OK – I think this baby will be your match," I didn't believe her. Was it really that easy in the end?
Once we got home, we began the process of becoming a transracial family. There is a lot of information about transracial adoption on the internet, and we had read most of it. But we were unprepared for the sudden interest in our family from friends and strangers alike. We are still learning what it means for our family to be transracial, and I find myself educating family members and friends about M's culture and ethnicity as quickly as I can learn about it.
He is just like other children, and he is mine – even if he has his birth mother's smile. I think we'll do just fine sharing him. He will always be hers – and she gave him to me. And I am happy with that.
Submitted by Springfield Moms contributor Erin James Predmore.