We all want to save money in today's tight economy, but there is a limit to what most of us can do.  That's why Springfield Moms writer Lauren Coleman's practical take on "Extreme Couponing" is so helpful. Read her article below for money saving tips and helpful websites.
One evening I was flipping through channels and came across Extreme Couponing on TLC. The idea was interesting. Who wouldn't want to save thousands of dollars and feed your family at the same time. However, the more I watched, I realized that the people weren't necessarily buying items that they needed. I also do not have the time to spend 36 hours a week devoted to couponing. So are there ways you can save money on items that you want without spending hours upon hours preparing? Absolutely!
Knowing the best days of the week to get the best deals is a step in getting started. For example, the best time to shop for groceries is Sunday evening according to Teri Gault, founder of The Grocery Game, a consumer savings program. Using your coupons from the Sunday morning paper on Sunday evening helps you maximize your savings and get fresh products. Many stores have specific days that they mark down certain products. For a list of the best days to shop for other items check out this great website: www.smartmoney.com
Keeping a spreadsheet of the items that your purchase on a regular basis and their cost is a great way to keep you organized. Then check the local grocery store fliers and compare. Knowing what you normally pay will help you decide if it is a good deal and something worth stocking up on.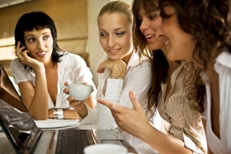 Coupon Clubs have been sprouting up to help you get the coupons you want, while helping friends get the items they need. You can do this with your friends or check the internet for clubs around you. The County Market on Veterans has a Thursday night coupon club. People can exchange coupons with each other based on individual needs.
Websites such as CouponMom.com is a free website that can link you to great deals such as 40% off an already marked down deal on Restaurants.com. Fatwallet.com is another website that allows you to search by store.
Saving money and shopping smart are things to be proud of when providing for your family, especially given the current economic climate. While it may take a little bit of work the pay off can be big and enjoyable as well. Happy Couponing!
Submitted by Springfield Moms contributor Lauren Coleman. Lauren is a former Chicago Public Schools, Special Education teacher turned stay at home mom/domestic engineer. She is wife to Christopher Coleman and mother to Isabelle and Baby Ireland. She originally hales from Iowa.