3301 Conifer Drive
(conveniently located at Koke Mill & Old Jacksonville Road)
Springfield, IL 62711
Celebrating 7 years.
217-787-1400
Limited Openings Available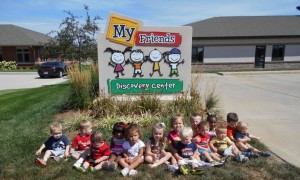 myfriendsdiscoverycenter.com

Jyl Waller, Executive Director
My Friends Discovery Center's mission is to provide quality child care for young children whose parents are concerned about safety, structured-yet-fun educational activities, a clean and friendly atmosphere, and convenience.  For children ages 6 weeks – 5 years.
You can meet us at KidsFest 2017 at the PCCC.
Why choose My Friends Discovery Center?
Your child's safety is our main concern with our Safety First Program. See our Tornado Safe Room located in the center of our building.
Our goal is to help your child achieve Educational Excellence.
We create a Family Atmosphere so your child will feel comfortable and safe while away from you.
Our Custom Designed Building was built to allow your child to have the best educational experience.
Our Professional Staff has your child's well-being and education as their top priority.
We are State Licensed to insure the highest standards are met.
Call or come by today for your tour! Join our  

Facebook Page.