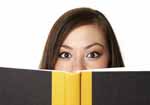 Brenda Barton-LeMay started a Mother Daughter Book Club several years ago with her then 4th grade daughter. When the girls in the club emtered high school, Brenda gave Springfield Moms an update on their reading list and interests.
Brenda says: "These are the books (listed below) that we read with the girls when they were in 7th and 8th grade. We found that all these books, chosen by the girls themselves, were great books that stimulated a lot of fantastic discussion about the big issues tweens and teens are too often confronted with today (peer pressure, sibling rivalry, teen suicide, diversity/religious/tolerance, drugs/alcohol use, going through puberty, sexual harassment). The moms couldn't believe how much we learned about what's going on in our girls' lives at school, in the peer groups and how open they were to discussing really difficult, sensitive and tough issues in the safe environment of 'discussing the book.' As you will see from the list, the girls are also developing an interest in global issues, too."
• Jacob Have I Loved by Katherine Paterson.
• Small Steps by Louis Sachar.
• Flipped by Wendelin Van Draanen.
• Uglies by Scott Westerfield.
• Pretties by Scott Westerfield.
• Elsewhere by Gabrielle Zevin.
• Running out of Time by Margaret Peterson Haddix.
• Blue Bloods by Melissa de la Cruz.
• The Truth About Forever by Sarah Dessen.
• Keeping The Moon by Sarah Dessen.
• Flowers for Algernon by Daniel Keyes.
• The Five People You Meet in Heaven by Mitch Albom.
• Thirteen Reasons Why by Jay Asher.
• That Summer by Sarah Dessen.
• An Abundance of Katherines by John Green.
For information and tips for how to start your own Mother Daughter Book Club, read this previous post (and Brenda's original article) in Book Nook.
Submitted by Springfield Moms reader Brenda Barton-LeMay.